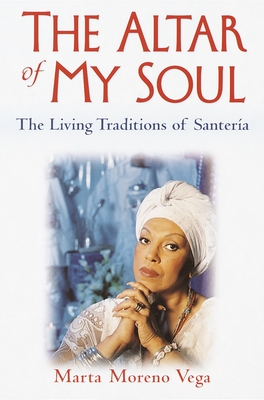 The Altar of My Soul: The Living Traditions of Santeria (Paperback)
The Living Traditions of Santeria
One World/Ballantine, 9780345421555, 304pp.
Publication Date: August 28, 2001
* Individual store prices may vary.
or
Not Currently Available for Direct Purchase
Description
Long cloaked in protective secrecy, demonized by Western society, and distorted by Hollywood, Santeria is at last emerging from the shadows with an estimated 75 million orisha followers worldwide. In The Altar of My Soul, Marta Moreno Vega recounts the compelling true story of her journey from ignorance and skepticism to initiation as a Yoruba priestess in the Santeria religion. This unforgettable spiritual memoir reveals the long-hidden roots and traditions of a centuries-old faith that originated on the shores of West Africa.
As an Afro-Puerto Rican child in the New York barrio, Marta paid little heed to the storefront botanicas full of spiritual paraphernalia or to the Catholic saints with foreign names: Yemaya, Ellegua, Shango. As an adult, in search of a religion that would reflect her racial and cultural heritage, Marta was led to the Way of the Saints. She came to know Santeria intimately through its prayers and rituals, drumming and dancing, trances and divination that spark sacred healing energy for family, spiritual growth, and service to others. Written by one who is a professor and a santera priestess, The Altar of My Soul lays before us an electrifying and inspiring faith-one passed down from generation to generation that vitalizes the sacred energy necessary to build a family, a community, and a strong, loving society.
About the Author
Marta Moreno Vega, Ph.D., is an assistant professor at the City University of New York's Baruch College. Professor Vega is founder of the Caribbean Cultural Center African Diaspora Institute and Amigos del Museo del Barrio. She has curated major visual arts exhibitions, including "Santeria and Vodun in the Americas," and organized three international conferences on "Orisha Tradition and Culture."
Praise For The Altar of My Soul: The Living Traditions of Santeria…
"A graceful tribute to a timeless religion, a testament to the transformative power of discovering your own spiritual side."
--New York Daily Challenge (Brooklyn)

"Highly recommended . . . Vega elegantly describes the rituals, meaning, and continuing relevance of Santeria, weaving her story into 12 chapters, each devoted to a different deity. Vega's account is rich with patokis ("mythic stories") and the lessons they teach for daily living."
--Library Journal

"Engaging, scholarly, and accessible, this is an excellent book."
--Booklist

"Vega makes an excellent, informed spokesperson on Santeria, and her accessible book will help explain Santeria beliefs and practices to a wide audience."
--Publishers Weekly

"More than a compelling study of one of the world's most fascinating religions, this inspiring account maps one woman's profound journey from emptiness to overwhelming peace and joy."
--Carib News (New York)

Selected by the Quality Paperback Book Club and the One Spirit Book Club
Advertisement