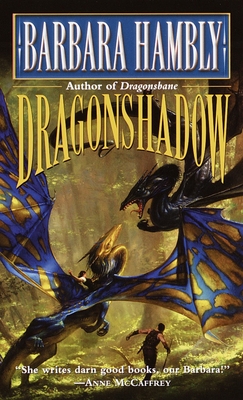 Dragonshadow (Mass Market Paperbound)
Del Rey Books, 9780345421883, 310pp.
Publication Date: January 4, 2000
* Individual store prices may vary.
or
Not Currently Available for Direct Purchase
Description
Lord John Aversin--with the help of his mageborn wife, Jenny Waynest-- has fought and defeated two dragons, earning the title of Dragonsbane. But there are creatures more terrifying than dragons. Demonspawn from a dark dimension have learned to drink the magic--and the souls--of mages and dragons alike, turning their victims into empty vessels. And now they've stolen John and Jenny's mageborn son, twelve-year-old Ian. In desperation, John seeks the help of the eldest and strongest dragon: Morkeleb the Black. But the demons have allies, too: a vast army poised to plunge the Realm into civil war. In the coming struggle, Morkeleb will sacrifice what he values most. Jenny will question everything she trusts and believes in. And John will embark on a perilous quest for the only things capable of defeating such powerful demons--even more powerful demons . . .
About the Author
At various times in her life, Barbara Hambly has been a high-school teacher, a model, a waitress, a technical editor, a professional graduate student, an all-night clerk at a liquor store, and a karate instructor. Born in San Diego, she grew up in Southern California, with the exception of one high-school semester spent in New South Wales, Australia. Her interest in fantasy began with reading The Wizard of Oz at an early age and has continued ever since. She attended the University of California, Riverside, specializing in medieval history. She spent a year at the University of Bordeaux in the south of France and worked as a teaching and research assistant at UC Riverside, eventually earning a master's degree in the subject. She now lives in Los Angeles.
Praise For Dragonshadow…
"She writes darn good books, our Barbara!"
--ANNE MCCAFFREY

"FIRST-RATE HIGH FANTASY . . . ELEGANT, INTELLIGENT, AND ENTERTAINING."
--Publishers Weekly (starred review)

"I might be slightly prejudiced for dragons, and I am definitely prejudiced in favor of anything Barbara Hambly wants to do with her main characters, Lord John and Jenny . . . She handles the action with great skill and charm, and the universe with beautiful imagery."
--ANNE MCCAFFREY
Advertisement