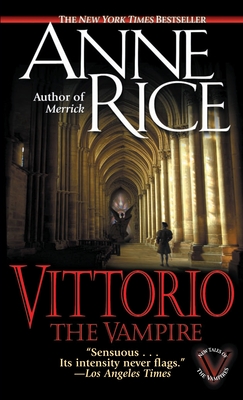 Vittorio, the Vampire (Mass Market Paperbound)
Ballantine Books, 9780345422392, 304pp.
Publication Date: February 27, 2001
* Individual store prices may vary.
or
Not Currently Available for Direct Purchase
Description

Educated in the Florence of Cosimo de' Medici, trained in knighthood at his father's mountaintop castle, Vittorio inhabits a world of courtly splendor and country pleasures--a world suddenly threatened when his entire family is confronted by an unholy power. In the midst of this upheaval, Vittorio is seduced by the beautiful and sinister vampire Ursula--setting in motion a chilling chain of events that will mark his life for eternity. Against a backdrop of the wonders--both sacred and profane--and the beauty and ferocity of Renaissance Italy, Anne Rice creates a passionate and tragic legend of doomed young love and lost innocence.
About the Author
ANNE RICE is the author of twenty-one books. She lives in New Orleans with her husband, the poet and painter Stan Rice.
Praise For Vittorio, the Vampire…
"Sensuous . . . Its intensity never flags."
--Los Angeles Times

"MASTERFUL . . . A STORY ILLUMINATED WITH THE METAPHOR OF GOLD, DRENCHED IN HELLISH DARKNESS AND DRIPPING WITH BLOOD."
--USA Today

"[A] LUSHLY DESCRIBED STORY OF HOW VITTORIO DI RINIARI BECAME A VAMPIRE . . . In the year 1450, he witnesses the massacre of his entire family by a band of demons. Fleeing from the primal scene, he follows the fiends in search of vengeance, and instead is overcome by the devastatingly beautiful 'strega,' the bare-shouldered Ursula. His desire for revenge--and his desire for Ursula--propels him in a dizzy descent to religion's darkest side."
--Publishers Weekly

"ANOTHER ENCHANTING PRETERNATURAL TALE . . . SUPERBLY WRITTEN AND ENGAGING."
--Associated Press

"VITTORIO is set against a magnificent backdrop of history and lore. An opulent feast for the imagination, the lust and passion of the early fourteenth century come to life in Rice's vivid prose."
--Rocky Mountain News

"A READER'S DELIGHT."
--Philadelphia Inquirer
Advertisement