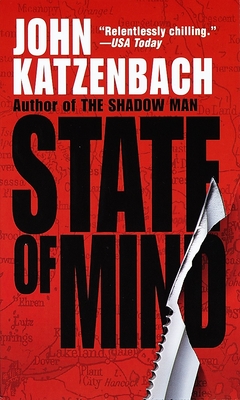 State of Mind (Mass Market)
A Novel of Suspense
Ballantine Books, 9780345422538, 544pp.
Publication Date: March 28, 1998
* Individual store prices may vary.
Description
Twenty-five years ago, Jeffrey and Susan Clayton fled their tyrannical father--a man who was later suspected in the heinous murder of a young student. Though the father was never charged, he committed suicide. Or so it seemed. For someone has sent Susan a cryptic note. Once deciphered, it carries a terrifying message: I have found you.

Meanwhile, a serial killer has invaded a tightly controlled community. Is Jeffrey Clayton's father the source of this latest killing spree? The authorities think so--and they present Jeffrey, now a noted expert on serial killers, with a challenge: Find the butcher responsible for the newborn spate of carnage. Find your father. . . .
About the Author
John Katzenbach has written five previous novels: the Edgar Award-nominated In the Heat of the Summer, which was adapted for the screen as The Mean Season; the New York Times bestseller The Traveler; Day of Reckoning; Just Cause, which was also made into a movie; and The Shadow Man (another Edgar nominee). Mr. Katzenbach has been a criminal court reporter for The Miami Herald and Miami News and a featured writer for Herald's Tropic magazine. He lives in western Massachusetts.
Praise For State of Mind: A Novel of Suspense…
"Relentlessly chilling."
—USA Today

"GRIPPING . . . CHURNS UP PLENTY OF THRILLS."
—Chicago Tribune

"DARK, MENACING."
—The Orlando Sentinel

"FEW WRITERS OF CRIME FICTION SEEM TO UNDERSTAND THE CRIMINAL MIND AS WELL AS KATZENBACH."
—People

"CREEPY . . . COMPELLING . . . You may as well just lock the doors and burrow under the covers. What is so scary is that Katzenbach creates a fictional world that is very much like the one we live in now, only taken to a horrifying extreme. . . . We don't want to give away too much here, but suffice it to say that the characters are compelling, the plot scary enough to keep you pinned to your beach blanket, and the overall experience very satisfying."
—USA Today

"A well written, well-plotted thriller. . . . Katzenbach is very good at world-building, and his imaginary Western Territory is frighteningly believable."
—The Washington Post Book World

"A superb thriller in which the power of the intelligent criminal mind rules violence in the cleverest and most malevolent way imaginable. In its dystopian vision of the American future, the novel also possesses eerie possibilities."
—Houston Chronicle

"GRIPPING . . . With STATE OF MIND, Katzenbach delivers suspense and a wildly imaginative story."
—Journal Inquirer (Manchester, CT)

"Katzenbach has written the best kind of psychological thriller, where the twists and turns take you where you expected to be, even though you voluntarily lost yourself a hundred times along the way."
—The Dayton Daily News

"Katzenbach creates some clever puzzles and capably portrays an America consumed by rage and chaos."
—Publishers Weekly

"CHILLING. . . . Katzenbach has created the killer we most fear—malevolent, brilliant, and unrepentant. . . . A novel that will engross the reader from the first page. From the killer's . . . first message to the shocking conclusion, the reader will feel the same dread and inevitability that tortures the Claytons."
—Washington Observer-Reporter (PA)

"Katzenbach's novels stick with you. . . . [He] has created crafty killers before, but he's never imagined such a thought-provoking environment. . . . Katzenbach reels us into the story. By the final confrontations, we're hooked."
—Staten Island Register (NY)

"Fast-paced."
—Kirkus Reviews
or
Not Currently Available for Direct Purchase