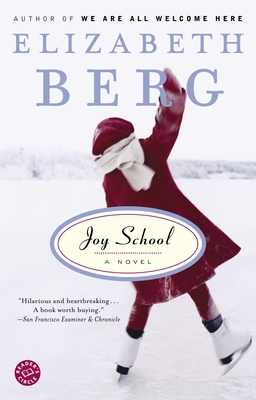 Joy School (Katie Nash #2) (Paperback)
Ballantine Books, 9780345423092, 240pp.
Publication Date: March 24, 1998
Other Editions of This Title:
Compact Disc (12/1/2014)
MP3 CD (12/1/2014)
Pre-Recorded Audio Player (12/3/2013)
MP3 CD (12/3/2013)
Compact Disc (12/3/2013)
MP3 CD (12/3/2013)
Compact Disc (12/3/2013)
* Individual store prices may vary.
Description
In this exquisite new novel by bestselling writer Elizabeth Berg, a young woman falls in love -- and learns how sorrow can lead to an understanding of joy.

Katie, the narrator, has relocated to Missouri with her distant, occasionally abusive father, and she feels very much alone: her much-loved mother is dead; her new school is unaccepting of her; and her only friends fall far short of being ideal companions. When she accidentally falls through the ice while skating, she meets Jimmy. He is handsome, far older than she, and married, but she is entranced. As their relationship unfolds, so too does Katie's awareness of the pain and intensity first love can bring.

Beautifully written in Berg's irresistible voice, Joy School portrays the soaring happiness of real love, the deep despair one can feel when it goes unrequited, and the stubbornness of hope that will not let us let go. Here also is recognition that love can come in many forms and offer many different things. Joy School illuminates, too, how the things that hurt the most can sometimes teach us the lessons that really matter.

About Durable Goods, Elizabeth Berg's first novel, Andre Dubus said, "Elizabeth Berg writes with humor and a big heart about resilience, loneliness, love and hope. And the transcendence that redeems." The same will be said of Joy School, Elizabeth Berg's most luminous novel to date.
About the Author
Elizabeth Berg is the author of many bestselling novels, including Open House, an Oprah's Book Club selection, Talk Before Sleep, and The Year of Pleasures, as well as the short story collection The Day I Ate Whatever I Wanted. Durable Goods and Joy School were selected as ALA Best Books of the Year. She adapted The Pull of the Moon into a play which enjoyed sold-out performances in Chicago and Indianapolis. Berg's work has been translated into twenty-seven languages. Three of her novels were turned into television movies. She is the founder of Writing Matters, a four-times-a-year quality reading series dedicated to serving author, audience, and community. She teaches one-day writing workshops, and is a popular speaker at venues around the country. Recently, some of her most popular Facebook postings were collected in Make Someone Happy. She lives outside Chicago.
Praise For Joy School (Katie Nash #2)…
"Hilarious and heartbreaking . . . A book worth buying."
—San Francisco Examiner & Chronicle

"IF YOU ONLY READ ONE BOOK THIS YEAR, LET IT BE THIS ONE."
—Richmond Times Dispatch

"A STORY THAT TUGS AT THE HEARTSTRINGS. . . Thirteen-year-old Katie is new to her Missouri town, living alone with a stern, inaccessible father following her mother's death. Unable to fit in at school, she forges alliances where she can: with her housekeeper, with a pimply fellow misfit named Cynthia, and with the gorgeous Taylor, who gets her kicks out of shoplifting. Most frustrating of all is Katie's imperfect friendship with the proprietor of a local gas station, a handsome twenty-three-year-old who shares her love of checkers but doesn't return her crush. With humor and an eye for telling detail, Berg conveys the way each unpromising element of Katie's life ultimately offers her more than she had anticipated."
—People

"[A] PAINFULLY ACCURATE TALE OF FIRST LOVE . . . Berg can conjure character with a minimum of words and a rainbow of nuance. The reader misses Katie the instant the book ends."
—Publishers Weekly (starred review)

"A FUNNY, SWEET, COMING-OF-AGE NARRATIVE . . .
Its heart and wit will remind Berg's fans
why her writing is so eminently likable."
—Chicago Tribune

"If you remember the heart-slamming intensity of your own first love, Joy School will recall the pain and exhilaration that intersect when that love is unrequited. Berg's peripheral characters are a treat: Vivid and quirky, they do more than fill in the background. These are people who encourage the reader to imagine what their own stories would be."
—St. Louis Post–Dispatch

"Growing up is hurtful, humorous, petty, and very, very serious. Berg has beautifully wrought this stage of life in her witty, warm way. Like every other Berg novel, Joy School is a joy to read."
—The Orlando Sentinel

"Berg's style works beautifully—deceptively simple, conversational, and hip."
—USA Today

"Dreamy and fragile, Berg's heroine is so convincingly brought to life that we feel her joys and sorrows as though they were our own."
—The Baltimore Sun

"Berg is a wily writer who has no trouble whipping up something sweet and satisfying. . . . [Joy School] will touch the most sophisticated reader's heart."
—Houston Chronicle

"One of the best things about this wonderful book is how funny it is. Don't read it anywhere you're not willing to risk being caught laughing aloud."
—Milwaukee Journal Sentinel

"A coming-of-age story that is neither grim nor saccharine, an exploration of how, for one spirited girl, life brings both daily grief and daily joy . . . Joy School possesses many of the strengths of [Durable Goods], most notably the narrator's voice. Katie is funny, imaginative, irreverent, idiosyncratic, and deeply, unusually charming."
—The Boston Sunday Globe

"A sweet-sad initiation story told in Berg's compelling voice."
—Newark Star-Ledger

"The reader feels tenderness toward the child's hope and toughness, and recognizes wisdom in her guileless voice. . . . Berg captures particularly well the feeling of loneliness and the sadness of growth and change."
—The Dallas Morning News

"Wonderful . . . Another must for Elizabeth Berg fans . . . Once you develop a taste for what she does with language and deeply rooted emotions, you devour [her books]. They are as a woman thinketh and feeleth and liveth in this whirling world where you only rarely stop to smell the rain-wet lilacs."
—News & Record (Greensboro, NC)