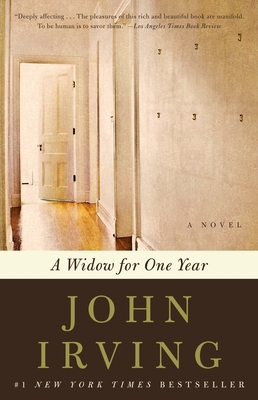 A Widow for One Year (Paperback)
A Novel
Ballantine Books, 9780345424716, 560pp.
Publication Date: March 23, 1999
Other Editions of This Title:
Digital Audiobook (7/11/2005)
Mass Market (11/27/2001)
Hardcover (5/20/2003)
Compact Disc (7/12/2005)
Audio Cassette (5/1/1998)
Paperback (6/1/2004)
Paperback (6/1/2004)
* Individual store prices may vary.
Description
In A Widow for One Year, we follow Ruth Cole through three of the most pivotal times in her life: from her girlhood on Long Island (in the summer of 1958) through the fall of 1990 (when she is an unmarried woman whose personal life is not nearly as successful as her literary career), and at last in the autumn of 1995, when Ruth is a forty-one-year-old widow and mother (and she's about to fall in love for the first time). Both elegiac and erotic, A Widow for One Year is a multilayered love story of astonishing emotional force.
About the Author
John Irving has been nominated for a National Book Award three times—winning once, in 1980, for the novel The World According to Garp. In 1992, Mr. Irving was inducted into the National Wrestling Hall of Fame in Stillwater, Oklahoma. In 2000, he won the Oscar for Best Adapted Screenplay for The Cider House Rules—a film with seven Academy Award nominations.
Praise For A Widow for One Year: A Novel…
"By turns antic and moving, lusty and tragic, A Widow for One Year is bursting with memorable moments."—San Francisco Examiner-Chronicle

"Wisely and carefully crafted . . . Irving is among the few novelists who can write a novel about grief and fill it with ribald humor soaked in irony."—USA Today

"Deeply affecting . . . The pleasures of this rich and beautiful book are manifold. To be human is to savor them."—Los Angeles Times Book Review

"A powerful tale to add to an already extraordinary body of work from a great American writer."—Richmond Times-Dispatch

"Masterful . . . powerful . . . Irving's best books are Dickensian in their rich characters, plotting and language—and of course, in moving the reader. On the final page of A Widow for One Year . . . I literally burst out crying."—Orlando Sentinel

"A sprawling 19th-century production, chock full of bizarre coincidences, multiple plot lines, lengthy digressions, and stories within stories. . . . An engaging and often affecting fable, a fairy tale that manages to be old-fashioned and modern all at once."—The New York Times

"[Irving's] characters can beguile us onto thin ice and persuade us to dance there. His instinctive mark is the moral choice stripped bare, and his aim is impressive. What's more, there's hardly a writer alive who can match his control of the omniscient point of view."—The Washington Post Book World

"In the sprawling, deeply felt A Widow for One Year, John Irving has delivered his best novel since The World According to Garp. . . . Like a warm bath, it's a great pleasure to immerse yourself in."—Entertainment Weekly

"Enchantingly balances the haunting tug of grief with the lure of enduring love . . . Irving's rich narrative and his sense of play result in a delicious collusion between author and reader."—Raleigh News & Observer

"Wonderfully satisfying . . . [Irving] tells this story with so much delight that it's difficult for the reader not to be infected with the same kind of joy in the reading."—The Dallas Morning News

"As compelling as Garp . . . Which is to say it's terrific. . . . His most moving book . . . John Irving is one of America's great storytellers."—San Jose Mercury News

"Comic and tragic, brilliant, and moving . . . Crammed with all the wonderful characters, quirky situations and memorable coincidences that have made [Irving] so beloved by readers . . . A terrific read that will make you its willing slave, so captivating is its allure."—Chattanooga Free Press

"A feast . . . One of this storyteller's richest works. . . . A rich, resonant tale."—Austin American-Statesman

"Irving is a writer whose keenest sensibilities have always fallen somewhere between Dickensian verbosity and Mad magazine mischief."—Rocky Mountain News

"Full of humor, heartbreak and lust."—Newsday

"Powerful . . . a masterpiece."—St. Louis Post-Dispatch

"A Widow for One Year delivers everything John Irving fans have come to expect from the beloved author of The World According to Garp: a funny, sad, sprawling saga full of oddball yet believable characters."—Glamour

"There's only one thing wrong with John Irving novels: They have to end. Readers won't easily part with the characters in his latest work, A Widow for One Year. . . . [An] exhilarating talent."—The Tennessean

"Moving and memorable . . . This novel marks a return to the deep but gentle examination of human nature that made Garp so successful."—San Diego Union-Tribune

"May be Irving's best book . . . A remarkable achievement."—Sunday Advocate (Baton Rouge, LA)