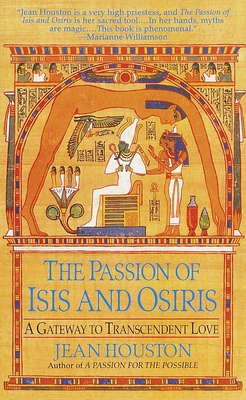 The Passion of Isis and Osiris (Paperback)
A Gateway to Transcendent Love
Wellspring/Ballantine, 9780345424778, 452pp.
Publication Date: August 18, 1998
* Individual store prices may vary.
Description
In The Passion of Isis and Osiris, Jean Houston, internationally renowned philosopher, psychologist, and explorer of world myth, takes us deep into the mysteries of Egypt, land of the ancient soul within us all. Houston brings this world to wonderful life, showing how the myth of Isis and Osiris gives modern readers a design for the marriage of body and soul, life and death, the tangible and the hidden. In detailed exercises and dramatic enactments that can be done in groups or alone, she demonstrates how we can identify the Isis and Osiris that are seeking reunion in each of us.

The Passion of Isis and Osiris re-creates nothing less than a moment of Egyptian magic that allows us to enter a consciousness that is the gateway to transcendent love. This story of two spiritual soulmates still has resonance for us today, whether we are seeking to join the disparate parts of self or searching for a mate to bond with, soul to soul.
About the Author
Jean Houston is the bestselling author of many books, including The Possible Human, The Search for the Beloved, and A Passion for the Possible. An internationally renowned scholar, philosopher, and teacher, Dr. Houston is the codirector of the Foundation for Mind Research in Pomona, New York, and a consultant to UNICEF and other international agencies.