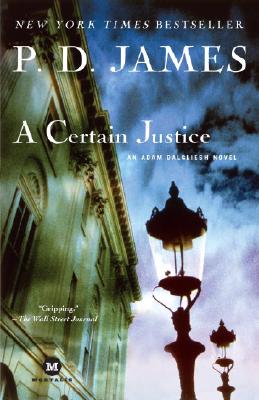 A Certain Justice: An Adam Dalgliesh Novel (Paperback)
An Adam Dalgliesh Novel
Ballantine Books, 9780345425324, 464pp.
Publication Date: November 4, 2003
Description
New York Times Bestseller When distinguished criminal lawyer Venetia Aldridge defends a young man for the brutal murder of his mother, she views the case as simply another opportunity to demonstrate her brilliance in the courtroom. But within weeks of the trial Aldridge is found dead at her desk, a bloodstained barrister's wig on her head. And as Commander Adam Dalgliesh of Scotland Yard attempts to make sense of events, the murders continue, inexorably spiraling into fresh complexities of horror.
About the Author
P.D. James is the author of fourteen previous books, nine of which have been filmed and broadcast on television. She spent thirty years in various sections of the British Civil Service, including the Police and Criminal Law Departments of the Home Office. She has served as a magistrate and as a governor of the BBC. P.D. James is the recipient of many prizes and honors, and in 1991 was created Baroness James of Holland Park. From the Hardcover edition.
Praise For A Certain Justice: An Adam Dalgliesh Novel…
"P.D. James is an addictive writer, [with] a quality of intelligence, a genuine curiosity about character, and an ability to describe the density of little known lives." --Anita Brookner

"A page-turning journey ... along the darker, twisted byways of human intentions." --Publishers Weekly (starred review)

"A Certain Justice has all James' hallmarks: elegance of language, a stellar sense of place, exquisitely defined characters, and a skillfully rendered tale of moral justice." --The Globe and Mail


"A whacking great whodunit." --The Calgary Sun



Advertisement