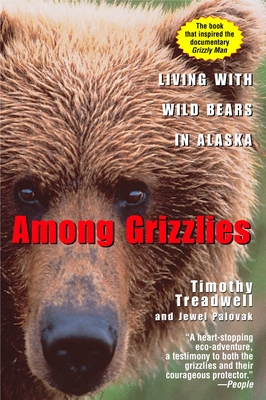 Among Grizzlies (Paperback)
Ballantine Books, 9780345426055, 208pp.
Publication Date: February 2, 1999
Description
Living with Wild Bears in Alaska "A heart-stopping eco-adventure, a testimony to both the grizzlies and their courageous protector." --People "The grizzly bear is one of a very few animals remaining on earth that can kill a human in physical combat. It can decapitate with a single swipe or grotesquely disfigure a person in rapid order. Within the last wilderness areas where they dwell, they are the undisputed king of all beasts. I know this very well. My name is Timothy Treadwell, and I live with the wild grizzly. . . ." After Timothy Treadwell nearly died from a heroin overdose, he sought healing far from the trappings of civilization--among wild grizzlies on the remote Alaskan coast. Without gun, two-way radio, or experience living in the wild, armed only with the love and respect he felt for these majestic animals, Treadwell set up camp surrounded by one of nature's most terrifying and fascinating forces of nature. Here is the story of his astonishing adventures with grizzlies: soothing aggressive adolescents, facing down thousand-pound males, swimming with mothers and cubs, surviving countless brushes with death, earning their trust and acceptance. In these incredible pages, Treadwell lives a life no human has ever attempted, and ultimately saves his own. To share his experience is awesome, harrowing, and unforgettable. "LIKE AFRICA NATURALIST JANE GOODALL, TREADWELL GIVES PERSONAL NAMES TO HIS SUBJECTS. . . . Bears have distinct personalities, Treadwell shows, and as a group, individual roles become clearly defined by gender, size, and age." --The Seattle Times With twenty-nine photographs.
About the Author
Timothy Treadwell was a well-known advocate for grizzlies. He co-created the nonprofit organization Grizzly People, which seeks to increase our understanding and appreciation of bears. He spent much of his time photographing and observing grizzlies throughout Alaska, and wrote about his experiences in Among Grizzlies: Living with Wild Bears in Alaska. In October 2003, he and his girlfriend Amie Huguenard, were killed by grizzly bears near Kaflia Bay, about 300 miles southwest of Anchorage. Jewel Palovak is the cocreator and president of Grizzly People and acted as co-executive producer to the documentary on Timothy Treadwell's life, Grizzly Man.
Advertisement