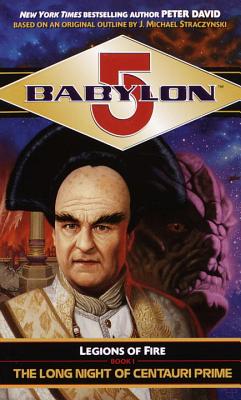 The Long Night of Centauri Prime (Mass Market Paperbound)
Del Rey Books, 9780345427182, 288pp.
Publication Date: December 7, 1999
* Individual store prices may vary.
or
Not Currently Available for Direct Purchase
Description
The beginning of an exciting new adventure that continues the Babylon 5 legacy . . .

Bombed to the brink of oblivion, the planet Centauri Prime is starting the slow and painful process of rebuilding, under the watchful eye of Emperor Londo Mollari. But Londo is in turn being watched--and manipulated--by the conquest-hungry Drakh. The malevolent beings are reshaping the Centauri Republic into a secret seat of power from which to strike out at their enemies--especially the Interstellar Alliance.

All but helpless to resist, Londo watches as his beloved Homeworld is transformed into a ruthless police state. And the Drakh have willing allies, including one of Londo's own countrymen--Durla, a powerful official with his own sinister agenda.

As the abuses of the repressive new Republic escalate, the double-edged Drakh master plan begins to unfold. Their goal is to smash the Interstellar Alliance by assassinating its president, John Sheridan, and to obliterate Earth, using a fabled, monstrous Shadow weapon known as a Planet Killer . . .
About the Author
Peter David is famous for writing some of the most popular of the original Star Trek: The Next Generation novels, including Imzadi and A Rock and a Hard Place. His original works include the Arthurian novel Knight Life and the quirky werewolf story Howling Mad. He single-handedly revived the classic comic book series The Incredible Hulk and has written just about every famous comic book superhero. He collaborated with J. Michael Straczynski on the Babylon 5 comic book series, and with Bill Mumy, he created the Nickelodeon television series Space Cases. In his spare time, he writes movie screenplays, children's books, and TV scripts (including Babylon 5). J. Michael Straczynski is one of the most prolific and highly regarded writers currently working in the television industry. In 1995, he was selected by Newsweek magazine as one of their Fifty for the Future, described as innovators who will shape our lives as we move into the twenty-first century. His work spans every conceivable genre--from historical dramas and adaptations of famous works of literature (The Strange Case of Dr. Jekyll and Mr. Hyde) to mystery series (Murder, She Wrote), cop shows (Jake and the Fatman), anthology series (The Twilight Zone), and science fiction (Babylon 5). He writes ten hours a day, seven days a week, except for his birthday, New Year's, and Christmas.
Praise For The Long Night of Centauri Prime…
"A solid, stand-alone novel . . . A fascinating spotlight on the enigmatic, deadly telepaths."
--USA Today (recommended reading)

"Dark Genesis is the kind of rare tie-in book that equals, or even bests, the franchise whose world it borrows. If you've heard the ravings of Babylon 5 fans . . . then this book is for you. You'll get a glimpse into the world they enjoy so passionately."
--Cinescape Online
Advertisement