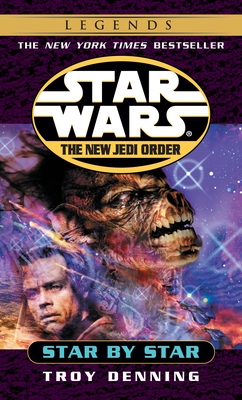 Star by Star: Star Wars Legends (the New Jedi Order) (Mass Market Paperbound)
Star Wars Legends (the New Jedi Order)
Del Rey Books, 9780345428677, 640pp.
Publication Date: October 1, 2002
Description
The New York Times bestselling Star Wars series The New Jedi Order enthralls readers with its epic drama and thrilling adventure. Now readers will pierce the very heart of darkness. . . . It is a solemn time for the New Republic, as the merciless Yuuzhan Vong continue their campaign of destruction. The brutal enemy has unleashed a savage creature capable of finding--and killing--Jedi Knights. And now Leia Organa Solo faces a terrible ultimatum. If the location of the secret Jedi base is not revealed within one week, the Yuuzhan Vong will blast millions of refugee ships into oblivion. As the battered but still unbroken Jedi scramble to deal with the newest onslaught, Leia's son Anakin lays out a daring plan. He will lead a Jedi strike force into the heart of enemy territory in order to sabotage the Yuuzhan Vong's deadliest weapons. There, with his brother and sister at his side, he will come face-to-face with his destiny--as the New Republic, still fighting the good fight, will come face-to-face with theirs. . . .
About the Author
Troy Denning is the author of the New York Times bestseller Waterdeep (under the pseudonym Richard Awlinson) and nineteen other novels, including Pages of Pain, Beyond the High Road, and, most recently, The Summoning. He lives in southern Wisconsin with his wife, Andria. From the Hardcover edition.
Advertisement