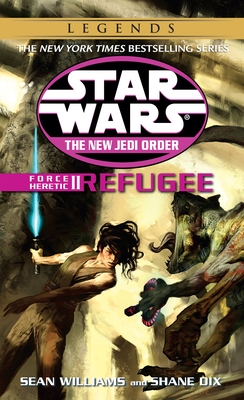 Refugee: Star Wars Legends (the New Jedi Order: Force Heretic, Book II) (Mass Market Paperbound)
Star Wars Legends (the New Jedi Order: Force Heretic, Book II)
Del Rey Books, 9780345428714, 416pp.
Publication Date: April 29, 2003
Description
Swift and deadly, the Yuuzhan Vong have blasted their way across the galaxy--and now stand on the threshold of total victory. Yet a courageous few still dare to oppose them. . . .
Rife with hostile cultures and outright enemies, the Unknown Regions holds many perils for Luke Skywalker and the Jedi, searching for Zonama Sekot, the living planet that may hold the key to dealing once and for all with the Yuuzhan Vong.
Meanwhile, on the edge of the galaxy and in the heart of a trusted ally, old enemies are stirring. The Yuuzhan Vong have inflamed long-forgotten vendettas that are even now building up to crisis point. And as Han and Leia journey on their quest to knit the unraveling galaxy back together, betrayal and deception await them. . . .
About the Author
Sean Williams and Shane Dix are the bestselling and award-winning coauthors of the Evergence series. Their last novels were Echoes of Earth and its sequel Orphans of Earth. Individually, both have numerous short story credits, and Williams is a successful author in his own right. His novels include Metal Fatigue and The Resurrected Man. His fantasy series, The Books of the Change, concluded in December 2002. Williams and Dix both live in Adelaide, South Australia, a city Salman Rushdie once described as the ideal setting for a horror story. Dix lives with his wife, Nydia, and has two children from a previous relationship. Williams lives with writer Kirsty Brooks and DJs in his spare time. For more information, please visit www.seanwilliams.com.au.
Advertisement