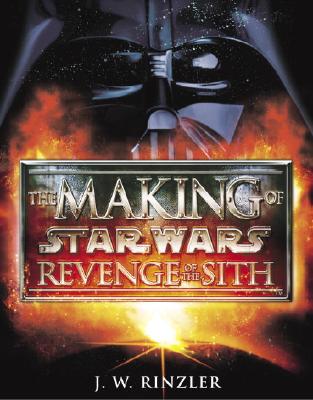 The Making of Star Wars: Revenge of the Sith (Paperback)
Revenge of the Sith
Lucas Books, 9780345431394, 224pp.
Publication Date: April 2, 2005
* Individual store prices may vary.
or
Not Currently Available for Direct Purchase
Description
This is it the climax of the greatest science fiction movie epic of all time, and Star Wars fans can venture behind the scenes for all the fascinating details. From the first story discussions to the final stages of post production, " "The Making of Star Wars: Revenge of the Sith" "is an exclusive, unprecedented look at the crafting of the most anticipated and perhaps the most important Star Wars film ever.
Packed with hundreds of never-before-seen photos and interviews with the visual-effects teams, cast, and crew including writer/director George Lucas and producer Rick McCallum this outstanding volume offers a rare insider's look at the complete creative process. Granted unprecedented access to all those involved at every stage of the film, author and Lucasfilm senior editor J. W. Rinzler captures in riveting detail the intense drama and cliffhangers that occurred as production worked day and night for three years to bring their monumental undertaking to conclusion. Readers will uncover
details on how the art and animatics departments teamed up with ILM to create the spectacular opening sequence, perhaps the greatest "Star Wars" space battle ever produced
revelations on the genesis of archvillain General Grievous within the Episode III art department
accounts of how George Lucas and Rick McCallum reached critical decisions in often pressure-laden situations
exclusive interviews with Hayden Christensen and Ewan McGregor on how they prepared for their thrilling lightsaber duel as Anakin and Obi-Wan
An eyewitness account of the reappearance of Darth Vader on the set in Sydney, Australia
Finally, there's the film editing Lucas's favorite part of the moviemaking process. This portrait of the legendary director captures the down-to-the-wire tension encountered in getting to the final cut.
Fueled by his imagination and his beginnings as a documentary filmmaker, Lucas makes films the way some painters create canvases, building layer upon layer in each frame of the film. And this book takes the reader along for the ride.
About the Author
Senior editor at Lucasfilm Ltd, J. W. RINZLER has overseen dozens of "Star Wars" books, including "Mythmaking: Behind the Scenes of Attack of the Clones, The Visual Dictionary: Attack of the Clones, "and "The Cinema of George Lucas." Rinzler attended Parsons School of Design and New York University s Graduate School of Arts and Science. He settled for a while in Paris, where he taught art history and cinema for many years at private and public universities. As the associate producer for a video game developer, he wrote the scripts for a number of educational titles. Rinzler returned to the States to become managing editor of "GamePro" magazine, and published a number of articles on the industry. He is the author of The Art of Star Wars" "Episode III Revenge of the Sith. Rinzler lives in Petaluma, California."
Advertisement