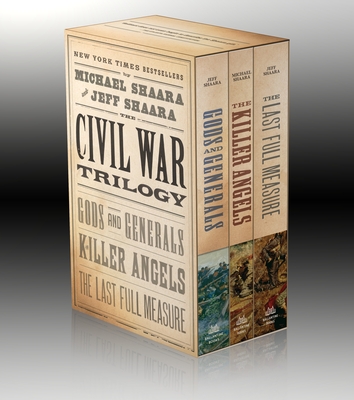 The Civil War Trilogy (Boxed Set)
Ballantine Books, 9780345433725, 3pp.
Publication Date: April 27, 1999
Description
Michael Shaara reinvented the war novel with his Pulitzer Prize winning masterpiece of Gettysburg, The Killer Angels. Jeff Shaara continued his father's legacy with a series of centuries-spanning New York Times bestsellers. This volume assembles three Civil War novels from America's first family of military fiction: Gods and Generals, The Killer Angels, and The Last Full Measure.
Gods and Generals traces the lives, passions, and careers of the great military leaders Thomas Stonewall Jackson, Winfield Scott Hancock, Joshua Chamberlain from the gathering clouds of war. The Killer Angels re-creates the fight for America's destiny in the Battle of Gettysburg, the four most bloody and courageous days of our nation's history. And The Last Full Measure brings to life the final two years of the Civil War, chasing the escalating conflict between Robert E. Lee and Ulysses S. Grant complicated, heroic, and deeply troubled men through to its riveting conclusion at Appomattox.
Praise for Michael Shaara and Jeff Shaara's Civil War trilogy
Brilliant does not even begin to describe the Shaara gift. The Atlanta Journal-Constitution

Shaara's beautifully sensitive novel delves deeply in the empathetic realm of psycho-history, where enemies do not exist just mortal men forced to make crucial decisions and survive on the same battlefield. San Francisco Chronicle, on Gods and Generals

Remarkable . . . a book that changed my life . . . I had never visited Gettysburg, knew almost nothing about that battle before I read the book, but here it all came alive. Ken Burns, on The Killer Angels

The Last Full Measure is more than another historical novel. It is rooted in history, but its strength is the element of humanity flowing through its characters. . . . The book is compelling, easy to read, well researched and written, and thought-provoking. . . . In short, it is everything that a reader could ask for. Chicago Tribune
About the Author
Michael Shaara was born in Jersey City in 1928 and graduated from Rutgers University in 1951. His early science fiction short stories were published in Galaxy magazine in 1952. He later began writing other works of fiction and published more than seventy short stories in many magazines, including The Saturday Evening Post, Cosmopolitan, and Redbook. His first novel, The Broken Place, was published in 1968. But it was a simple family vacation to Gettysburg, Pennsylvania, in 1964 that gave him the inspiration for his greatest achievement, the Pulitzer Prize winning novel The Killer Angels, published in 1974. Michael Shaara went on to write two more novels, The Noah Conspiracy and For Love of the Game, which was published after his death in 1988. Jeff Shaara is the New York Times bestselling author of A Chain of Thunder, A Blaze of Glory, The Final Storm, No Less Than Victory, The Steel Wave, The Rising Tide, To the Last Man, The Glorious Cause, Rise to Rebellion, and Gone for Soldiers, as well as Gods and Generals and The Last Full Measure two novels that complete the Civil War trilogy that began with his father s Pulitzer Prize winning classic, The Killer Angels. Shaara was born into a family of Italian immigrants in New Brunswick, New Jersey. He grew up in Tallahassee, Florida, and graduated from Florida State University. He lives again in Tallahassee."
Praise For The Civil War Trilogy…
"Brilliant does not even begin to describe the Shaara gift."—The Atlanta Journal-Constitution
 
"Shaara's beautifully sensitive novel delves deeply in the empathetic realm of psycho-history, where enemies do not exist—just mortal men forced to make crucial decisions and survive on the same battlefield."—San Francisco Chronicle, on Gods and Generals
 
"Remarkable . . . a book that changed my life . . . I had never visited Gettysburg, knew almost nothing about that battle before I read the book, but here it all came alive."—Ken Burns, on The Killer Angels
 
"The Last Full Measure is more than another historical novel. It is rooted in history, but its strength is the element of humanity flowing through its characters. . . . The book is compelling, easy to read, well researched and written, and thought-provoking. . . . In short, it is everything that a reader could ask for."—Chicago Tribune
Advertisement