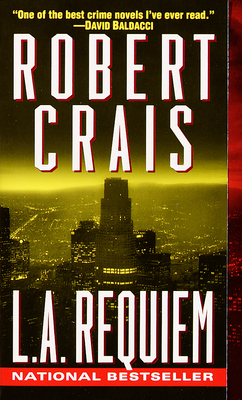 L.A. Requiem (Mass Market Paperbound)
Ballantine Books, 9780345434470, 416pp.
Publication Date: February 1, 2000
Description
The day starts like any other in L.A. The sun burns hot as the Santa Ana winds blow ash from mountain fires to coat the glittering city. But for private investigator Joe Pike, the city will never be the same again. His ex-lover, Karen Garcia, is dead, brutally murdered with a gun shot to the head.
Now Karen's powerful father calls on Pike (a former cop) and his partner, Elvis Cole, to keep an eye on the LAPD as they search for his daughter's killer--because in the luminous City of Angels, everyone has secrets, and even the mighty blue have something to hide. But what starts as a little procedural hand-holding turns into a deadly game of cat-and-mouse. For a dark web of conspiracy threatens to destroy Pike and Cole's twelve-year friendship--if not their lives. And L.A. just might be singing their dirge.
About the Author
Robert Crais has written for such award-winning television shows as L.A. Law and Hill Street Blues. His novels Free Fall and The Monkey's Raincoat were nominated for the Edgar Award. He lives in Los Angeles.
Praise For L.A. Requiem…
"One of the best crime novels I've ever read. Absolutely terrific!"
--DAVID BALDACCI

"TERRIFIC ENTERTAINMENT . . . A POWERFUL PORTRAIT OF LOS ANGELES IN OUR TIME: SWIFT, COLORFUL, GRIPPING, A REAL KNOCKOUT."
--DEAN KOONTZ

"DARKER, DENSER, DEEPER, AND MORE SATISFYING THAN ANYTHING HE'S WRITTEN BEFORE."
--The Denver Post

"[A] WHODUNIT WITH SALSA AND SOUL . . . [CRAIS] KEEPS HIS PLOT POUNDING ALONG."
--People
Advertisement