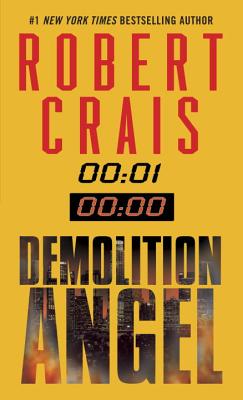 Demolition Angel (Mass Market Paperbound)
Ballantine Books, 9780345434487, 400pp.
Publication Date: July 3, 2001
Description
"TERRIFIC . . . EXPLOSIVE . . . A] HIGH POWERED THRILL RIDE."
-The Wall Street Journal

"CRAIS IS AT THE TOP OF HIS GAME, and Demolition Angel delivers the goods. With a bang. . . . It's Silence of the Lambs meets Speed as down-on-her-luck former bomb-squad ace Carol Starkey plays cat-and-mouse with a serial bomber. . . . Crais knows how to press all the right buttons in keeping the story line taut and the action, well, explosive."
-San Francisco Chronicle

"GRIPPING . . . CRAIS PILES ON PLOT TWISTS . . . gathering the separate threads at the end and igniting them like a string of fireworks."
-People

"A POWERFUL, SELF-CONTAINED NOVEL OF SUSPENSE that has the compactness, velocity, and effectiveness of a well-aimed bullet . . . This is a thriller that works on every level, a pivotal work from a crime novelist operating at the top of his game."
-Los Angeles Times

"FASCINATING AND FRIGHTENINGLY BELIEVABLE . . . Starkey is one of the toughest characters to grace the crowded field of thriller books in a long time."
-USA Today

About the Author
Robert Crais is the author of nine previous novels, including the bestselling and Edgar-nominated L.A. Requiem. In addition to his previous award-winning books, Crais has written for such acclaimed television shows as L.A. Law and Hill Street Blues. He lives in Los Angeles. Demolition Angel has been purchased by Columbia/TriStar and producer Laurence Mark (Jerry Maguire, As Good As It Gets), and is being developed as a major motion picture.
Praise For Demolition Angel…
"A flammable techno-thriller with the kind of force that knocks out windows."
–The New York Times Book Review

"Packs an explosive punch. Though the pace of the book moves like a quick-burning fuse, Crais still takes the time in Demolition Angel to sketch out some memorable characters: Starkey, haunted and hollow-eyed, covering up her pain with a Bogart-tough demeanor; and John Michael Fowles (aka Mr. Red), a sociopath who gets all sorts of information from the Internet without breaking a sweat. . . . Crais keeps things wound so tight that readers will be getting paper cuts in their rush to finish this one."
–The Denver Post

"The final pages can hardly be turned fast enough, and the climactic violence is tempered masterfully with a sweet irony."
–The San Diego Union-Tribune




Advertisement