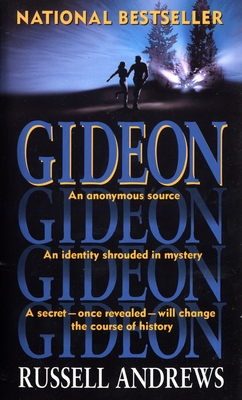 Gideon (Mass Market Paperbound)
Ballantine Books, 9780345434784, 480pp.
Publication Date: June 6, 2000
* Individual store prices may vary.
or
Not Currently Available for Direct Purchase
Description
Gideon. An identity shrouded in mystery - the anonymous source who holds the key to an explosive secret. In a clandestine meeting, writer Carl Granville is hired to take the pages of an old diary, articles, letters, documents in which all proper names and locations have been blacked out - and turn them into compelling fiction. He will be paid a quarter of a million dollars. But he can never tell a soul. As he is fed information and his work progresses, Granville begins to realize that Gideon's book is more than just a potential bestseller. It is a revelation of chilling evil and a decades-long cover-up by someone with far-reaching power. He starts to have second thoughts. How will his book be used? Whose lives will be shattered? What is the truth behind the story - and who is the true storyteller? Then someone close to Granville is bludgeoned to death. Another is savagely murdered. His apartment is ransacked, his computer destroyed, all his records stolen. Suspicion falls on Granville. He tries to explain the shadowy assignment. No one believes him. He has no proof, no alibis...
About the Author
Russell Andrews is a pseudonym for the team ofPeter Gethers and David Handler. Peter Gethers has written two previous novels, The Dandy and Getting Blue, and two bestselling nonfiction books, The Cat Who Went to Paris and A Cat Abroad. In addition, he is an editor and publisher and, with David Handler, has written numerous film scripts and television shows. Mr. Gethers lives in New York City and Sag Harbor, New York. This is the first collaboration with Mr. Handler under the name "Russell Andrews." David Handler began his career as a journalist and critic. He won widespread critical acclaim for his autobiographical first novel, Kiddo, and has an Edgar and an American Mystery Award for his series of eight novels featuring amateur sleuth Stewart Hoag - a hero who, in the words of the Detroit Free Press, combines "the panache of James Bond, the in-your-face attitude of Sean Penn, and the lethal wit of Gore Vidal." Mr. Handler has written many television and film scripts with his longtime partner, Peter Gethers. He makes his home in Old Lyme, Connecticut.
Praise For Gideon…
"THE EFFECT IS A BIT LIKE ROLLING DOWN A GRASSY HILL . . . YOU PICK UP SERIOUS SPEED. . . . Writer Carl Granville - down on his luck personally and professionally - is approached one day by a hotshot publisher who says she'll pay him a startling amount of money to turn a top secret diary into a novel. Gift from God or devilish trap? . . . The conspiracy he gets tangled in plays on some seriously topical fears."
-Entertainment Weekly

"THE BOOK'S GOT EVERYTHING A BIG ADVENTURE THRILLER SHOULD - a potentially world-shaking secret, nearly invincible villains, vulnerable protagonists on the run, romance, [and] betrayal. . . . What takes it a step beyond . . . are the seriousness of its message and the playfulness with which it bites the hand that publishes it."
-Los Angeles Times

"FRANTIC . . . NOTHING IS EVER AS IT SEEMS."
-The Boston Globe

"THIS ONE WILL KEEP YOU GUESSING UNTIL THE END."
-Houston Chronicle
Advertisement