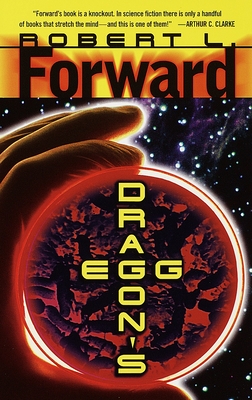 Dragon's Egg (Paperback)
Del Rey Books, 9780345435293, 352pp.
Publication Date: February 29, 2000
* Individual store prices may vary.
or
Not Currently Available for Direct Purchase
Description
"In science fiction there is only a handful of books that stretch the mind--and this is one of them."--Arthur C. Clarke

In a moving story of sacrifice and triumph, human scientists establish a relationship with intelligent lifeforms--the cheela--living on Dragon's Egg, a neutron star where one Earth hour is equivalent to hundreds of their years. The cheela culturally evolve from savagery to the discovery of science, and for a brief time, men are their diligent teachers. Praise for Dragon's Egg "Bob Forward writes in the tradition of Hal Clement's Mission of Gravity and carries it a giant step (how else?) forward."--Isaac Asimov "Dragon's Egg is superb. I couldn't have written it; it required too much real physics."--Larry Niven "This is one for the real science-fiction fan."--Frank Herbert "Robert L. Forward tells a good story and asks a profound question. If we run into a race of creatures who live a hundred years while we live an hour, what can they say to us or we to them?"--Freeman J. Dyson "Forward has impeccable scientific credentials, and . . . big, original, speculative ideas."--The Washington Post
About the Author
Robert L. Forward was a consulting scientist, future technologist, lecturer, and science fact and fiction writer. He was the author of Dragon's Egg and its sequel, Starquake, as well as ten other science fiction novels, three works of science fact, and numerous popular science articles and short stories. He died in 2002.
Praise For Dragon's Egg…
"Forward's book is a knockout. In science fiction there is only a handful of books that stretch the mind--and this is one of them!"
--ARTHUR C. CLARKE

"Bob Forward writes in the tradition of Hal Clement's Mission Gravity and carries it a giant step (how else?) forward."
--ISAAC ASIMOV

"Dragon's Egg is superb. I couldn't have written it; it required too much real physics."
--LARRY NIVEN

"This is one for the real science-fiction fan."
--FRANK HERBERT

"Robert L. Forward tells a good story and asks a profound question. If we run into a race of creatures who live a hundred years while we live an hour, what can they say to us or we to them?"
--FREEMAN J. DYSON
   Author of Disturbing the Universe

"Forward has impeccable scientific credentials, and . . . big, original, speculative ideas."
--The Washington Post
Advertisement