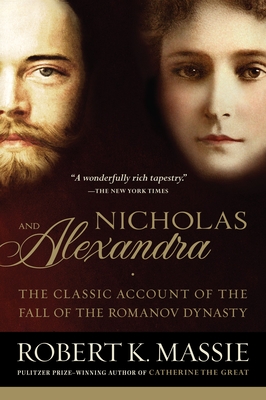 Nicholas and Alexandra
The Classic Account of the Fall of the Romanov Dynasty
Paperback

* Individual store prices may vary.
Description
A "magnificent and intimate" (Harper's) modern classic of Russian history, the spellbinding story of the love that ended an empire—from the Pulitzer Prize–winning author of Peter the Great, The Romanovs, and Catherine the Great

"A moving, rich book . . . [This] revealing, densely documented account of the last Romanovs focuses not on the great events . . . but on the royal family and their evil nemesis. . . . The tale is so bizarre, no melodrama is equal to it."—Newsweek

In this commanding book, New York Times bestselling author Robert K. Massie sweeps readers back to the extraordinary world of the Russian empire to tell the story of the Romanovs' lives: Nicholas's political naïveté, Alexandra's obsession with the corrupt mystic Rasputin, and little Alexis's brave struggle with hemophilia. Against a lavish backdrop of luxury and intrigue, Massie unfolds a powerful drama of passion and history—the story of a doomed empire and the death-marked royals who watched it crumble.
Praise For Nicholas and Alexandra: The Classic Account of the Fall of the Romanov Dynasty…
"A wonderfully rich tapestry, the colors fresh and clear, every strand sewn in with a sure hand. Mr. Massie describes those strange and terrible years with sympathy and understanding. . . . They come vividly before our eyes."—The New York Times
 
"An all-too-human picture . . . Both Nicholas and Alexandra with all their failings come truly alive, as does their almost storybook romance."—Newsday
 
"A magnificent and intimate picture . . . Not only the main characters but a whole era become alive and comprehensible."—Harper's

"A larger-than-life drama."—Saturday Review
Random House Trade Paperbacks, 9780345438317, 640pp.
Publication Date: February 1, 2000
About the Author
Robert K. Massie was born in Lexington, Kentucky, and studied American history at Yale and European history at Oxford, which he attended as a Rhodes Scholar. He was president of the Authors Guild from 1987 to 1991. His books include Nicholas and Alexandra, Peter the Great: His Life and World (for which he won a Pulitzer Prize for biography), The Romanovs: The Final Chapter, Dreadnought: Britain, Germany, and the Coming of the Great War, Castles of Steel: Britain, Germany, and the Winning of the Great War at Sea, and Catherine the Great: Portrait of a Woman. Robert K. Massie died in 2019.