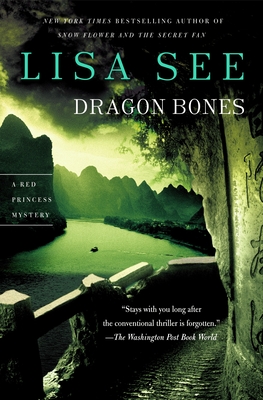 Dragon Bones (Paperback)
Random House Trade, 9780345440310, 368pp.
Publication Date: March 2, 2004
Description
In a magnificent land where myth mixes treacherously with truth, one woman is in charge of telling them apart. Liu Hulan is the Inspector in China's Ministry of Public Security whose tough style rousts wrongdoers and rubs her superiors the wrong way. Now her latest case finds her trapped between her country's distant past and her own recent history. The case starts at a rally for a controversial cult that ends suddenly in bloodshed, and leads to the apparent murder of an American archaeologist, which officials want to keep quiet. And haunting Hulan's investigation is the possible theft of ancient dragon bones that might alter the history of civilization itself. Getting to the bottom of ever-spiraling events, Hulan unearths more scandals, confronts more murderers, and revives tragic memories that shake her tormented marriage to its core. In the end, she solves a mystery as big, unruly, and complex as China itself.
About the Author
Lisa See is the New York Times bestselling author of Dreams of Joy, Shanghai Girls, Peony in Love, Snow Flower and the Secret Fan, Flower Net (an Edgar Award nominee), The Interior, and Dragon Bones, as well as the critically acclaimed memoir On Gold Mountain. The Organization of Chinese American Women named her the 2001 National Woman of the Year. She lives in Los Angeles.
Praise For Dragon Bones…
"Stays with you long after the conventional thriller is forgotten."
—The Washington Post Book World

"Lisa See is one of the classier practitioners of . . . the international thriller. . . . She draws her characters . . . with convincing depth, and offers up documentary social detail that reeks of freshly raked muck. See's China is as vivid as Upton Sinclair's Chicago."
—The New York Times Book Review

"Mixing history, myths, and current events, Dragon Bones is an extraordinarily rich novel. It reveals the emotional and economical entanglement of China with the West, and tells a story of violence, lust, greed, fear, and desperation. The novel not only is a page-turner but is also timely."
—HA JIN
Author of Waiting and The Crazed

"The novel flows beautifully, engaging readers in the mystery while gently introducing them to China's rich cultural history. . . . See does for Chinese antiquities what Elizabeth Peters did for the Dead Sea Scrolls in The Dead Sea Cipher."
—Library Journal

"An exciting murder mystery . . . This book truly captures man's constant desire for material gain, and one unusual detective's goal to right the wrongs in her world."
—Colorado Springs Independent

"See succeeds in widening the reader's knowledge about the politics and culture of contemporary China while racing along with an absorbing story."
—Publishers Weekly

"[An] absorbing portrait of China."
—Lansing Star Journal (MI)
"Fascinating."
—Booklist


Advertisement