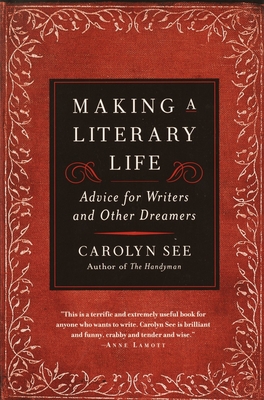 Making a Literary Life
Advice for Writers and Other Dreamers
Paperback

* Individual store prices may vary.
Description
As Carolyn See says, writing guides are like preachers on Sunday—there may be a lot of them, but you can't have too many, and there's always an audience of the faithful. And while Making a Literary Life is ostensibly a book that teaches you how to write, it really teaches you how to make your interior life into your exterior life, how to find and join that community of like-minded souls you're sure is out there somewhere.

Carolyn See distills a lifetime of experience as novelist, memoirist, critic, and creative-writing professor into this marvelously engaging how-to book. Partly the nuts and bolts of writing (plot, point of view, character, voice) and partly an inspirational guide to living the life you dream of, Making a Literary Life takes you from the decision to "become" a writer to three months after the publication of your first book. A combination of writing and life strategies (do not tell everyone around you how you yearn to be a writer; send a "charming note" to someone you admire in the industry five days a week, every week, for the rest of your life; find the perfect characters right in front of you), Making a Literary Life is for people not usually considered part of the literary loop: the non–East Coasters, the secret scribblers.

With sagacity, a magical sense of humor, and an abiding belief in the possibilities offered to "ordinary" people living "ordinary" lives, Carolyn See has summed up her life's work in a book so beguiling, irreverent, and giddily inspiring that you won't even realize it's changing your life until it already has.
Praise For Making a Literary Life: Advice for Writers and Other Dreamers…
"This guide to literary success is wonderfully original and smart and funny and down-to-earth—just what desperate beginning writers desperately need."
—Alison Lurie

"This is a terrific and extremely useful book for anyone who wants to write. Carolyn See is brilliant and funny, crabby and tender and wise."
—Anne Lamott

"Wise, witty, practical, mordant, funny, this is the only guide to becoming a writer that may actually work. It's a primer on Carolyn See: great artist, large soul."
—James Ellroy

"Carolyn See doesn't just tell you to sharpen your pencils, she shows you how to sharpen your wits."
—Rita Mae Brown

"After reading Making a Literary Life, I have decided to abandon my present career and become an aspirant writer, this time guided by Carolyn See's wonderfully instructive (and readable) book."
—William F. Buckley, Jr.

"Carolyn See has been giving me lessons on writing and living since my first book came out, and when Carolyn See talks, I obey. I bow down in gratitude. We should rejoice at this serious, joyful, irreverent, and very practical book."
—Elizabeth Benedict

"If everyone who wants to be a writer would read this book there would be many more good writers, many more happy writers, and editors would be so overwhelmed by sweetness they would accept many more good books. So what are you waiting for? Read it!"
—Ursula K. Le Guin
Ballantine Books, 9780345440464, 288pp.
Publication Date: August 26, 2003
About the Author
Carolyn See is the author of nine books. She is the Friday-morning book reviewer for The Washington Post and a member of the National Book Critics Circle, PEN/West International, and the advisory board of the Modern Library. She has won both a Guggenheim and a Getty fellowship, and currently teaches English at UCLA. She lives in Pacific Palisades, California.
or
Not Currently Available for Direct Purchase