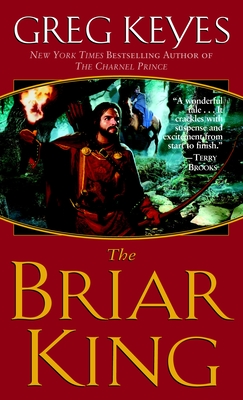 The Briar King (Mass Market Paperbound)
Del Rey Books, 9780345440709, 608pp.
Publication Date: March 30, 2004
Description
Two thousand years ago, the Born Queen defeated the Skasloi lords, freeing humans from the bitter yoke of slavery. But now monstrous creatures roam the land and destinies become inextricably entangled in a drama of power and seduction. The king's woodsman, a rebellious girl, a young priest, a roguish adventurer, and a young man made suddenly into a knight all face malevolent forces that shake the foundations of the kingdom, even as the Briar King, legendary harbinger of death, awakens from his slumber. At the heart of this many-layered tale is Anne Dare, youngest daughter of the royal family . . . upon whom the fate of her world may depend.
About the Author
Greg Keyes was born in Meridian, Mississippi, to a large, diverse, storytelling family. He received degrees in anthropology from Mississippi State and the University of Georgia before becoming a full-time writer. He is the author of the Age of Unreason tetrology and The Charnel Prince (Book II in The Kingdoms of Blood and Stone) as well as The Waterborn, The Blackgod, and the Star Wars New Jedi Order novels--Edge of Victory I: Conquest and Edge of Victory II: Rebirth. He lives in Savannah, Georgia.
Praise For The Briar King…
"A wonderful tale . . . It crackles with suspense and excitement from start to finish."
—TERRY BROOKS

"STARTS OFF WITH A BANG, spinning a snare of terse imagery and compelling characters that grips tightly and never lets up. . . .
A graceful, artful tale from a master storyteller."
—ELIZABETH HAYDON
Bestselling author of Prophecy: Child of Earth

"THE CHARACTERS IN THE BRIAR KING ABSOLUTELY BRIM WITH LIFE. . . . Keyes hooked me from the first page and I'll now be eagerly anticipating sitting down with each future volume of The Kingdoms of Thorn and Bone series."
—CHARLES DELINT
Award-winning author of Forests of the Heart and The Onion Girl

"A THRILL RIDE TO THE END, WITH PLENTY OF TREACHERY, REVELATION, AND EVEN A FEW BOMBSHELL SURPRISES."
—Monroe News-Star (LA)
Advertisement