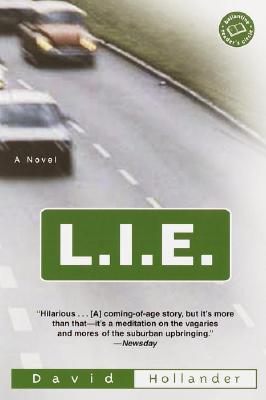 L.i.e. (Paperback)
Ballantine Books, 9780345441003, 256pp.
Publication Date: November 27, 2001
* Individual store prices may vary.
or
Not Currently Available for Direct Purchase
Description
"AT ONCE MORDANTLY FUNNY AND ACHINGLY SAD . . . A SOUL MAP FOR MODERN SUBURBIA."
–SHERI HOLMAN
Bestselling author of The Dress Lodger

Cutting through the landscape, connecting small towns to the world at large, the Long Island Expressway (the L.I.E.) has many exits–and each one tells a story. It's the late eighties in Long Island, New York, and eighteen-year-old Harlan Kessler plays in a band, parties with friends, and struggles with a family that offers anything but a Kodak moment. The one ray of hope in Harlan's life is Sarah DeRosa. With her by his side, Harlan just might make the right choices between love and aggression, intimacy and absence, finding himself and losing his mind. . . .

"[AN] ENGAGING DEBUT . . . If we feel we've heard enough about the land at malls and cloverleafs, we're wrong: it's probably the most authentically American experience there is, a point that Hollander makes in a blur of concrete, exit signs, and self-deprecating hilarity."
–Los Angeles Times

"REMARKABLE . . . COMPELLING . . . POWERFUL . . . A young man's head-on collision with the failed American Dream . . . What makes this book one of note is Hollander's unique storytelling style. . . . You'll be richly rewarded by an original, edgy experience."
–Fort Worth Star-Telegram

About the Author
David Hollander grew up in Suffolk County, Long Island. A graduate of the State University of New York at Purchase and the Sarah Lawrence College writing program, he lives in Brooklyn.
Praise For L.i.e.…
"An entertaining coming-of-age story set in one of America's legendary weird suburbs . . . Hollander is an inventive writer who manages simultaneously to romanticize and to parody his own experience."
–The Washington Post

"The landscape of Long Island is a critical presence in the book, and Hollander portrays it with as much vitality and detail as the human characters. . . . One of the best aspects of L.I.E. is that is can be read on several different levels. Sufficiently lighthearted and amusing for casual readers, it contains enough emotional complexity and even tragedy to suit those who long for deeper reading. Those who seek challenge and profundity will find plenty of food for thought in Harlan's existential dilemma. . . . This unconventional novel [is] a rewarding and entertaining experience."
–The Wellesley News

"Hollander displays a keen eye for the ordinary, capturing teenage discontent and suburban malaise without pretense."
–Gear
Advertisement