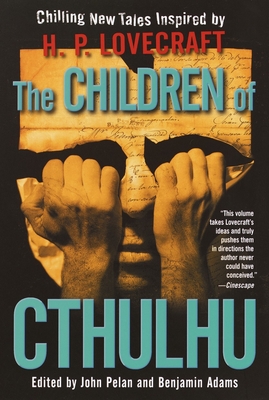 The Children of Cthulhu (Paperback)
Del Rey Books, 9780345441089, 480pp.
Publication Date: April 29, 2003
* Individual store prices may vary.
or
Not Currently Available for Direct Purchase
Description
Descend to the depths of primal horror with this chilling collection of original stories drawn from H. P. Lovecraft's shocking, terrifying, and eerily prescient Cthulhu Mythos. In twenty-one dark visions, a host of outstanding contemporary writers tap into our innermost fears, with tales set in a misbegotten new world that could have been spawned only by the master of the macabre himself, H. P. Lovecraft. Inside you'll find: "Details" by China Mieville: A curious boy discovers that within the splinters of cracked wood or the tangle of tree branches, the devil is in the details. "Visitation" by James Robert Smith: When Edgar Allan Poe arrives, a callow man finally gets what he always wanted--and what he may eternally despise. "Meet Me on the Other Side" by Yvonne Navarro: A couple in love with terror travels beyond their wildest dreams--and into their nightmares. "A Fatal Exception Has Occured At . . ." by Alan Dean Foster: Internet terrorism extends far beyond transmitting threats of evil. AND SEVENTEEN MORE HARROWING TALES "The Invisible Empire" by James Van Pelt
"A Victorian Pot Dresser" by L. H. Maynard and M. P. N. Sims
"The Cabin in the Woods" by Richard Laymon
"The Stuff of the Stars, Leaking" by Tim Lebbon
"Sour Places" by Mark Chadbourn
"That's the Story of My Life" by John Pelan and Benjamin Adams
"Long Meg and Her Daughters" by Paul Finch
"Dark of the Moon" by James S. Dorr
"Red Clay" by Michael Reaves
"Principles and Parameters" by Meredith L. Patterson
"Are You Loathsome Tonight?" by Poppy Z. Brite
"The Serenade of Starlight" by W. H. Pugmire, Esq.
"Outside" by Steve Rasnic Tem
"Nor the Demons Down Under the Sea" by Caitlin R. Kiernan
"A Spectacle of a Man" by Weston Ochse
"The Firebrand Symphony" by Brian Hodge
"Teeth" by Matt Cardin.
About the Author
John Pelan is an acclaimed author whose fiction includes the Lovecraftian novella The Colour out of Darkness. He is the editor of such groundbreaking anthologies as Darkside: Horror for the Next Millennium, The Devil Is not Mocked, and The Last Continent: New Tales of Zothique. His solo stories have appeared in publications such as The Urbanite, Gothic.net, Enigmatic Tales, and Carpe Noctem. He is the founder of the publishing house Darkside Press, and cofounder of Midnight House. He lives in Seattle. Benjamin Adams is an editor and author whose stories have appeared in such anthologies as Blood Muse, Miskatonic University, 365 Scary Stories, Singers of Strange Songs, and Return to Lovecraft Country. From the Hardcover edition.
Praise For The Children of Cthulhu…
"This volume takes Lovecraft's ideas and truly pushes them in directions the author never could have conceived."
—Cinescape

"UNABASHEDLY HORRIFIC . . . A PERFECT TRIBUTE TO H. P. LOVECRAFT . . . [The stories] range from Poppy Z. Brite's lucid and magnificent 'Are You Loathsome Tonight?' to the elaborate, quintessentially Lovecraftian construction of 'A Victorian Pot Dresser' by L. H. Maynard and M.P.N. Sims."
—Booklist


"H. P. Lovecraft's dark mythology continues to fascinate and inspire writers. A stellar result of this inspiration is collected in The Children of Cthulhu."
—The Denver Post


Advertisement