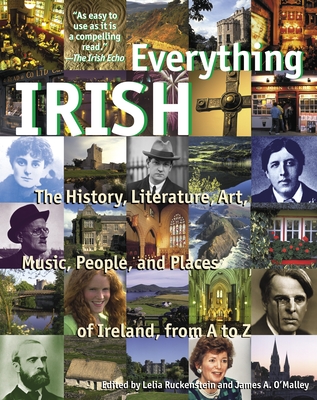 Everything Irish: The History, Literature, Art, Music, People, and Places of Ireland, from A to Z (Paperback)
The History, Literature, Art, Music, People, and Places of Ireland, from A to Z
Ballantine Books, 9780345441294, 480pp.
Publication Date: March 1, 2005
Description
Here, in one complete volume, is the depth and breadth of the great island nation and its people represented in an easily browsed, friendly format. From the Abbey Theatre to the Dublin storyteller Zozimus; from the origin of the Troubles to the origin of the limerick; from the stunning beauty of Connemara to the shattering tragedy of Bloody Sunday; from the greatest writers of the English language to the "confrontational television" of Gay Byrne's The Late Late Show-every aspect of Irish culture, geography, and history is collected and annotated in more than 900 entries from A to Z. Readers will encounter heroes and terrorists, poets and politicians, all of Ireland's counties, ancient myths, and pivotal events-all expertly and succinctly described and explained. With entries written by some of the world's leading authorities on Ireland, Everything Irish is perfect for everyone, from the inquiring reader to the serious student. You can spend a few minutes learning about the much-maligned Travelers and then move on to the equally contentious (in its time) medieval tithe. Visit the majestic Cliffs of Moher and then delve into an analysis of paramilitary groups like the Irish Republican Army and the Ulster Volunteer Force. Explore the ruins of a Romanesque castle or experience the piercing light of the winter solstice inside prehistoric Newgrange, a passage grave older than the pyramids. Across centuries and across counties, the rich landscape of Irish life and heritage springs to life in these pages. An indispensable source of fascinating information and captivating anecdote, this is one book that will never be far from the hands of those with curious minds or an adventurous spirit. From the Hardcover edition.
About the Author
James A. O'Malley, a native of Limerick, Ireland, is a lawyer and former columnist for the Irish Voice. In 1992, he was honored by Irish America magazine as one of the 100 most important Irish Americans. He is on the Board of Directors of the Irish Repertory Company. O'Malley has a B.A. in Literature from the University of Ireland, Galway and a J.D. from the New York University School of Law. Lelia Ruckenstein is a writer and editor. She has worked in publishing for sixteen years and has reviewed books for the Chicago Tribune and The Washington Post. She holds a B.A. in English from Yale University and divides her time between New York and Ireland. From the Hardcover edition.
Advertisement