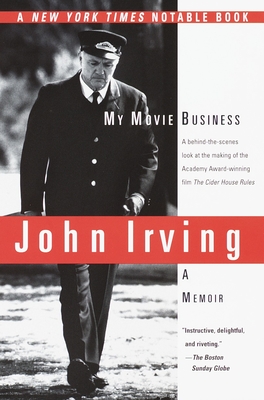 My Movie Business (Paperback)
A Memoir
Ballantine Books, 9780345441300, 224pp.
Publication Date: October 10, 2000
* Individual store prices may vary.
Description
After two producers, four directors, thirteen years, and uncounted rewrites, the movie version of John Irving's acclaimed novel, The Cider House Rules, at last made it to the big screen. Here is the author's account of the novel-to-film process. Anecdotal, affectionate, and delightfully candid, My Movie Business dazzles with Irving's incomparable wit and style.
About the Author
John Winslow Irving was born in Exeter, New Hampshire, in 1942. He is the author of nine novels, among them A Prayer for Owen Meany and A Widow for One Year. Mr Irving is married and has three sons; he lives in Toronto and in southern Vermont.
Praise For My Movie Business: A Memoir…
"Writing a novel is like swimming in the sea; writing a film is like swimming in the bath. . . . This short, amiable book is John Irving's personal history of seeing--or not seeing--his novels made into movies. . . . The book digresses charmingly and effortlessly into related subjects. There is a beguiling memoir of his grandfather, an eminent surgeon; a brilliant and passionate argument for the freedom of women to choose abortion . . . observations on the origins of his novels, and so on. . . . Irving remains cooly objective, and it is clear why: he is a novelist, first and foremost, and his attitude toward the movie business is informed by this security and certainty. . . . Irving has done us [writers] proud."
--The New York Times Book Review
or
Not Currently Available for Direct Purchase