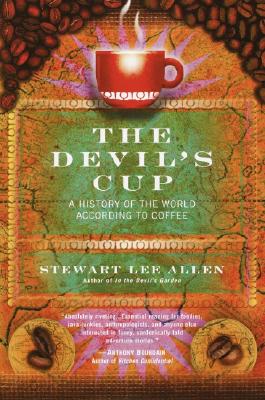 The Devil's Cup: A History of the World According to Coffee (Paperback)
A History of the World According to Coffee
Ballantine Books, 9780345441492, 240pp.
Publication Date: March 4, 2003
* Individual store prices may vary.
or
Not Currently Available for Direct Purchase
Description
In this captivating book, Stewart Lee Allen treks three-quarters of the way around the world on a caffeinated quest to answer these profound questions: Did the advent of coffee give birth to an enlightened western civilization? Is coffee, indeed, the substance that drives history? From the cliffhanging villages of Southern Yemen, where coffee beans were first cultivated eight hundred years ago, to a cavernous coffeehouse in Calcutta, the drinking spot for two of India's three Nobel Prize winners . . . from Parisian salons and cafes where the French Revolution was born, to the roadside diners and chain restaurants of the good ol U.S.A., where something resembling brown water passes for coffee, Allen wittily proves that the world was wired long before the Internet. And those who deny the power of coffee (namely tea-drinkers) do so at their own peril.
About the Author
Stewart Lee Allen is the author of In the Devil's Garden: A Sinful History of Forbidden Food. Another book of his, The Devil's Cup, was published in more than six countries. He was born in California and has lived in Calcutta, Paris, Katmandu, and Sydney. He lives in Brooklyn.
Praise For The Devil's Cup: A History of the World According to Coffee…
"Stewart Lee Allen is the Hunter S. Thompson of coffee, offering a wild, caffeinated, gonzo tour of the World of the Magic Bean. His wry, adventurous prose delights, astonishes, amuses, and informs."
--MARK PENDERGRAST
   Author of Uncommon Grounds:
   The History of Coffee and How It Transformed Our World
Advertisement