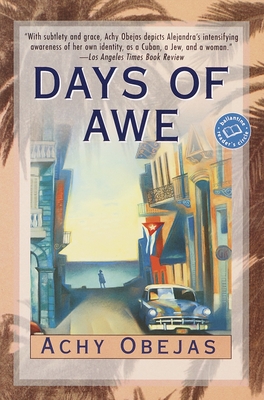 Days of Awe (Paperback)
Ballantine Books, 9780345441546, 402pp.
Publication Date: July 30, 2002
* Individual store prices may vary.
or
Not Currently Available for Direct Purchase
Description

RICH AND SONOROUS PROSE . . . There's plenty of reason to hope for the future of a fiction that welcomes writers with such a passionate sense of the past.
San Jose Mercury News

On New Year's Day, 1959, Alejandra San Jose was born in Havana, entering the world through the heart of revolution. Fearing the turmoil brewing in Cuba, her parents took Ale and fled to the shores of North America ending up in Chicago amid a close community of Cuban refugees. As an adult, Ale becomes an interpreter, which takes her back to her homeland for the first time. There, she makes her way back through San Jose history, uncovering new fragments of truth about the relatives who struggled with their own identities so long ago. For the San Joses, ostensibly Catholics, are actually Jews. They are conversos who converted to Christianity during the Spanish Inquisition. As Alejandra struggles to confront what it is to be Cuban and American, Catholic and Jewish, she translates her father's troubling youthful experiences into the healing language of her own heart.
Lyrically written, Days of Awe reflects the way Cuban Spanish is spoken with poetic rhythm and frankness.
Ms.

An ambitious work . . . A deft talent whose approach to sex, religion, and ethnicity is keenly provocative.
Miami Herald

With intelligent, intense writing, Obejas approaches . . . the heady climes of Cuban American stalwarts Oscar Hijuelos and Cristina Garcia.
Library Journal (starred review)

About the Author
Like her heroine, Achy Obejas was born in Havana and came to the United States as a young child. She is a cultural writer for the Chicago Tribune. Her articles have appeared in Vogue, The Nation, Ms. Latina, the Los Angeles Times, Chicago Reader, Girlfriend, High Performance, New City, and Chicago Reporter. She is the author of Memory Mambo, a novel, and We Came All the Way from Cuba So You could Dress Like This?, a collection of short stories. She is a frequent speaker at universities and community centers across the country and in Cuba. From the Hardcover edition.
Praise For Days of Awe…
"A NOVEL THAT MANAGES TO BE BOTH SHARP-WITTED
AND ELEGIAC, BEAUTIFULLY WRITTEN AND
FULL OF SURPRISES THROUGHOUT."
–JOAN SILBER
Author of In My Other Life

"Obejas relates the compelling and disquieting history of Judaism and anti-Semitism in Cuba amidst evocative musings on exile, oppression, inheritance, the unexpected consequences of actions both weak and heroic, and the unruliness of desire and love."
–Booklist (starred review)

"Achy Obejas trains her poet's eye and her journalist's zeal on the ambiguities of exile, the disappointments of passionate love, and the fascinating 500-year story of Cuba's hidden Jews. We won't get anything as pat as a happy ending for our heroine, Alejandra, born with the Revolution, but the reader is guaranteed a magnificent journey."
–RAY SUAREZ
The NewsHour with Jim Lehrer
Author of The Old Neighborhood
Advertisement