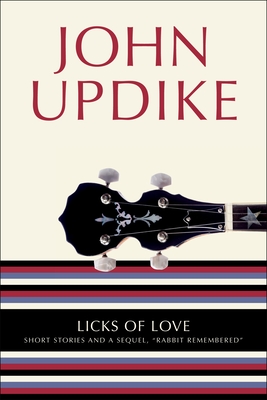 Licks of Love: Short Stories and a Sequel, "Rabbit Remembered" (Paperback)
Short Stories and a Sequel, "Rabbit Remembered"
Random House Trade, 9780345442017, 384pp.
Publication Date: November 27, 2001
Description
In this brilliant late-career collection, John Updike revisits many of the locales of his early fiction: the small-town Pennsylvania of "Olinger Stories," the sandstone farmhouse of "Of the Farm," the exurban New England of "Couples" and "Marry Me," and Henry Bech's Manhattan of artistic ambition and taunting glamour. To a dozen short stories spanning the American Century, the author has added a novella-length coda to his quartet of novels about Harry "Rabbit" Angstrom. Several strands of the Rabbit saga come together here as, during the fall and winter holidays of 1999, Harry's survivors fitfully entertain his memory while pursuing their own happiness up to the edge of a new millennium. Love makes Updike's fictional world go round--married love, filial love, feathery licks of erotic love, and love for the domestic particulars of Middle American life.
About the Author
John Updike was born in Shillington, Pennsylvania, in 1932. He graduated from Harvard College in 1954 and spent a year in Oxford, England, at the Ruskin School of Drawing and Fine Art. From 1955 to 1957 he was a member of the staff of "The New Yorker." His novels have won the Pulitzer Prize, the National Book Award, the National Book Critics Circle Award, the Rosenthal Foundation Award, and the William Dean Howells Medal. In 2007 he received the Gold Medal for Fiction from the American Academy of Arts and Letters. John Updike died in January 2009.
Praise For Licks of Love: Short Stories and a Sequel, "Rabbit Remembered"…
"A touching, elegiac collection of stories about infidelity, about the weight of family, about the dwindling of years . . . [Updike] works so slowly and carefully that you rarely see the emotional punches coming."—Newsweek
 
"With compassion and bemused affection, [Updike] traces the many large and small ways in which Harry's actions continue to reverberate through the lives of his widow, Janice, and their son, Nelson. . . . ['Rabbit Remembered'] not only reconnoiters old ground but in doing so also manages to transform it into something stirring and new."—Michiko Kakutani, The New York Times
 
" 'Rabbit Remembered' is a thing of rich satisfaction. . . . Throughout the collection are passages of stylistic certainty and bittersweet intimacy."—The Boston Sunday Globe
Advertisement