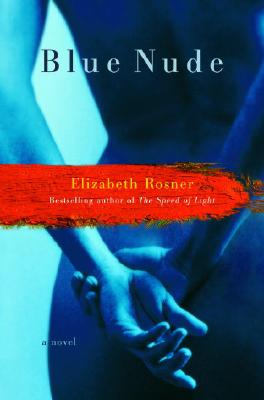 Blue Nude (Hardcover)
Ballantine Books, 9780345442222, 224pp.
Publication Date: April 25, 2006
Other Editions of This Title:
Paperback (9/14/2010)
* Individual store prices may vary.
Description
In this sensual, intimate novel, prizewinning poet and bestselling author Elizabeth Rosner tells the engrossing and timely story of an artist and his model, and the moral and political implications of their relationship.

Born in the shadow of postwar Germany, Danzig is a once-prominent painter who now teaches at an art institute in San Francisco. But while Danzig shares wisdom and technique with students, his own canvases remain mysteriously empty. When a compelling new model named Merav poses for his class, Danzig, unsettled by her beauty, senses that she may be the muse he has been waiting for.

The Israeli-born granddaughter of a Holocaust survivor, Merav is a former art student who discovered her abilities as a model while studying in Tel Aviv. To escape the danger and violence of the Middle East, she moved to California, where she found work posing for artists around the Bay Area. Now challenged by Danzig's German accent and the menace it suggests, Merav must decide how to overcome her fears. Before they can create anything new together, both artist and model are forced to examine the history they carry.

Like a paintbrush in motion, Blue Nude moves back and forth through time, recounting the events that have brought Danzig and Merav together: their disparate upbringings, their creative awakenings, and their similarly painful, often catastrophic, love lives. The novel ultimately unites them in the present and, through the transcendent power of artistic expression, moves them forward to the point of reconciliation, redemption, and revival.

Using words to paint the landscapes of body and soul, Elizabeth Rosner conveys the art of survival, the complexity of history, the form of exile, the shape of desire, and the color of intimacy. Blue Nude is the narrative equivalent of a masterpiece of fine art.
Praise For Blue Nude…
Advance praise for Blue Nude

"Blue Nude is a novel that spans time and continents, from postwar Germany to California to Israeli kibbutzim, a novel that explores the big questions of history, fate, art, and how we choose to live the lives we're given. And yet it's also wonderfully intimate in its exploration of the hearts of its individual characters. Elizabeth Rosner has written a thought-provoking, moving, and original book."
–Dan Chaon, author of You Remind Me of Me

"What I like especially about Elizabeth Rosner's Blue Nude is its patience and careful pace, both utterly appropriate to a story of troubled reconciliation. In its insistence that sweetness (honeyed, not saccharine) can come out of violence, Blue Nude resembles the astonishing Israeli film Walk on Water, which also takes on the contemporary legacy of German-Jewish relations. It helps that Ms. Rosner has a poet's eye and an enviable ability to allow both her lapidary sentences and her deeply complex characters space to breathe."
–Jonathan Wilson, author of A Palestine Affair

"Rosner takes on complexity with a brilliant poet's insistence that the body can never surrender cultural legacy. Blue Nude is easy to pick up and, in its suspense, hard to put down. Its sensitivity to detail acts as a love letter to the world."
–Edie Meidav, author of Crawl Space
or
Not Currently Available for Direct Purchase