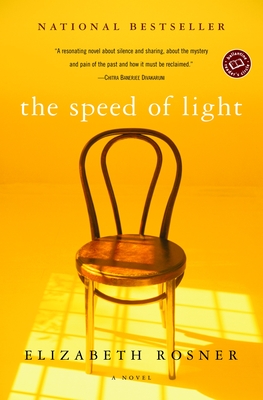 The Speed of Light
A Novel
Paperback

* Individual store prices may vary.
Description
Every family has a story. Every story, eventually, must be told.

For most of their lives, Julian Perel and his sister, Paula, lived in a house cast in silence, witnesses to a father struggling with a devastating secret too painful to share. Though their father took his demons to the grave, his past refuses to rest.

As adults, brother and sister struggle to find their voices. A scientist governed by numbers and logic, Julian now lives an ordered life of routine and seclusion. My father gave up his language and his homeland. But he carried his sadness with him, under his skin. It was mine now. In contrast, Paula has entered the world as eagerly as Julian retracts from it. An aspiring opera singer, she is always moving, buoyant with sound. Singing was the only gift I could offer to my father. I filled the house with music. I tried to give him joy. . . .

Yet both their lives begin to change on a Wednesday, miercoles, the day that sounds like miracles. Before embarking on a European opera tour, Paula asks her housekeeper, Sola, to stay at her place--and to look after Julian in the apartment above. Yet Sola, too, has a story. I want to clean myself like the window of a house, make myself clear for things to pass through. Flat and quiet.

As Paula uncovers pieces of her father's early life in Budapest and the horrifying truth of his past, Julian bears witness to Sola's story--revelations that help all three learn how to both surrender and revere the shadows that have followed them for so long.

The Speed of Light is a powerful debut about three unforgettable souls who overcome the tragedies of the past to reconnect with one another and the world around them. In an extraordinary accomplishment, Elizabeth Rosner has created a novel of love and redemption that proves the pain of the untold story is far greater than even the most difficult truth.
Praise For The Speed of Light: A Novel…
"The Speed of Light is an elegant, meticulous, and quite subtle novel about lives lived at a remove from, but forever connected to, tragedy--the camps. Ms. Rosner's imaginative aim, of course, is to show us great human importance where we might've thought it didn't reside, and to change us with this knowledge. She certainly succeeds."
--RICHARD FORD

"A resonating novel about silence and sharing, about the mystery and pain of the past and how it must be reclaimed. Beautifully written, in images that sing in our ears long after we've put the book down."
--CHITRA RANERTEE DIVAKARUNI
Author of The Mistress of Spices and The Unknown Errors of Our Lives

"Rilke memorably defined art as exactness, a hatred of the vague, and by that definition The Speed of Light is poetry sustained. The precision of the language here, the structural arrangements and the deft evocation of character in history all herald a genuine talent--not so much emerging as achieved. Ms. Rosner's debut novel turns sorrow into song."
--NICHOLAS DELBANCO
Author of What Remains

"With its symphony of voices, The Speed of Light tells a haunting story of loss and redemption. It is beautifully written and utterly affecting."
--TOVA MIRVIS
Author of The Ladies Auxiliary

"Elizabeth Rosner touches a chord deep down where our fears are buried, then makes that chord vibrate and hum until magic happens and it sings. I loved this book. It entered my dreams."
--BEVERLY DONOFRIO
Author of Riding in Cars with Boys and Looking For Mary

"Elizabeth Rosner has written a lyrical and absorbing novel whose power is enriched by its understatement. This uncommon story not only probes how children wrestle with the silence handed down to them by a silent father cursed with inexhaustible sorrow, but it also tells us of the healing magic of love and does so through a marvelous and unusual character--a Latino housekeeper--who will find an enduring spot in readers' hearts."
--JOSEPH BERGER
Author of Displaced Persons: Growing Up American After the Holocaust
Ballantine Books, 9780345442253, 272pp.
Publication Date: April 1, 2003
About the Author
Elizabeth Rosner is a graduate of Stanford University and received a master of fine arts in creative writing from the University of California at Irvine. Her poetry and fiction have appeared in Poetry East, Southern Poetry Review, and Another Chicago Magazine, among other publications. She lives in Berkeley, California.
or
Not Currently Available for Direct Purchase