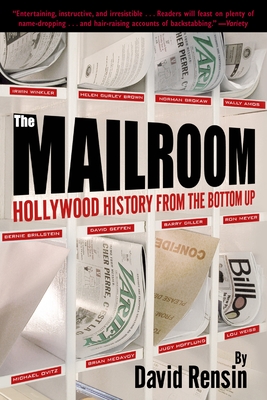 The Mailroom: Hollywood History from the Bottom Up (Paperback)
Hollywood History from the Bottom Up
Ballantine Books, 9780345442352, 464pp.
Publication Date: February 3, 2004
Description
It's like a plot from a Hollywood potboiler: start out in the mailroom, end up a mogul. But for many, it happens to be true. Some of the biggest names in entertainment--including David Geffen, Barry Diller, and Michael Ovitz-- started their dazzling careers in the lowly mailroom. Based on more than two hundred interviews, David Rensin unfolds the never-before-told history of an American institution--in the voices of the people who lived it. Through nearly seven decades of glamour and humiliation, lousy pay and incredible perks, killer egos and a kill-or-be-killed ethos, you'll go where the trainees go, learn what they must do to get ahead, and hear the best insider stories from the Hollywood everyone knows about but no one really knows. A vibrant tapestry of dreams, desire, and exploitation, The Mailroom is not only an engrossing read but a crash course, taught by the experts, on how to succeed in Hollywood.
About the Author
David Rensin is the coauthor of show business legend Bernie Brillstein's widely lauded memoir, Where Did I Go Right, as well as Olympian Louis Zamperini's World War II survival saga, Devil At My Heels and composer/performer Yanni's memoir, Yanni: In Words. Rensin also co-wrote Tim Allen's #1 bestseller Don't Stand Too Close To a Naked Man and Allen's follow-up bestseller, I'm Not Really Here. He has co-written bestsellers with Chris Rock, Jeff Foxworthy, and Garry Shandling, and co-authored a groundbreaking humorous sociology of men named Bob, called The Bob Book. He lives in Los Angeles with his wife and son. From the Hardcover edition.
Praise For The Mailroom: Hollywood History from the Bottom Up…
"Entertaining, instructive, and irresistible . . . Readers will feast on plenty of name-dropping . . . and hair-raising accounts of backstabbing."
—Variety

"A TERRIFIC BOOK . . . Loaded with great stories, unusual insights, and laugh-out-loud humor. You will love this one."
—LARRY KING

"FASCINATING . . . A bracing lesson in the acquisition and exercise of power . . . with a big emphasis on the maxim that what doesn't kill you will make you stronger."
—Los Angeles Times

"THE MAILROOM IS A BLAST TO READ. This is the way Hollywood operates—the fun, the giddy high, the espionage, and the wrenching twists of luck and disaster. David Rensin is a master at eliciting the truth nobody else captures."
—CAMERON CROWE

"SHAMELESS SCHMOOZING, casting couch know-how, plotting and hustling are all detailed in The Mailroom."
—The New York Post (Required Reading)

"FASCINATING . . . [THE MAILROOM] REALLY DELIVERS."
—People

"A-LIST HONCHOS . . . DISH ON THEIR RISE FROM PEONS TO POWER PLAYERS."
—US Weekly

"This is indeed Hollywood history, more specifically a cogent account of how talent agencies have evolved since [William] Morris was ruled by executives in size 36-short suits. Rensin's clever use of personal memories as mosaic pieces, arranged in patterns to form an industrywide portrait, is history for grown-ups."
—Variety

"Coming from the William Morris mailroom as I have, [I found] this book [to be] the truth of what I experienced. . . . It's hilarious, a bit crazy, and it should make anyone wonder why people put their careers in the hands of these idiots . . . and remember, I'm one of them. If you have a child, make sure he or she reads this before starting at the bottom—anywhere."
—BERNIE BRILLSTEIN
Founding partner
of Brillstein-Grey, WMA 1955

"A riotous history of all the Hollywood movers and players who came into the industry through the mailrooms of the big talent agencies."
—The Globe and Mail (Toronto)

"A worthy successor to Studs Terkel, Rensin delivers not only a riveting history of one of the most powerful springboards in Hollywood but a must-read for anyone with grand ambitions."
—CATHERINE CRIER
Author of The Case Against Lawyers

"A THOROUGHLY ENTERTAINING ORAL BIOGRAPHY OF A TINSELTOWN INSTITUTION."
—The San Francisco Examiner

"Here is the quintessential Hollywood Roshomon. . . . David Rensin has impossibly and heroically channeled Studs Terkel and Harold Robbins all at once. This is a pinball machine clanging secret truths that move and careen as brashly as the movers who blurt their guts onto every shockingly entertaining page. And the best part is that we learn that people who are now very, very rich were forced to do very, very humiliating things to achieve such. What a refreshing equalizer for all of us."
—BILL ZEHME
Author of The Way You Wear Your Hat:
Frank Sinatra and the Lost Art of Livin'

"David Rensin's book offers a fascinating look at some of the most powerful people and institutions in Hollywood. It's packed with entertaining anecdotes . . . cautionary tales, and survival tips for those who dare to try their luck in one of the world's most unpredictable businesses."
—KIM MASTERS
Author of Keys to the Kingdom

"As the maven of the mailroom, David Rensin puts forth an often-hilarious glimpse of life at the bottom."
—PETER BART
Editor in Chief, Variety

"Rensin captures the ambition, manipulative plotting, and hustler mentality . . . in this series of raunchy, realistic interviews . . . making [the] book an uncompromisingly truthful tell-all of what it takes to make it in the movie biz. . . . The stories are amusing, intriguing, and sometimes horrifying, but Rensin, to his credit, never dilutes sordid details."
—Publishers Weekly

"An oral history of a crucial Tinseltown institution, related by some folks who make Machiavelli look like a pussycat . . . Edgy, frenetic, and entertaining reports from the room that launched a thousand deals."
—Kirkus Reviews


Advertisement