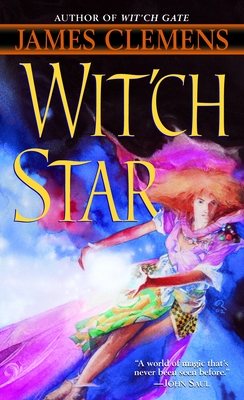 Wit'ch Star (The Banned and The Banished #5)
Mass Market

* Individual store prices may vary.
Description
Rarely has a young writer won a place among the major talents in fantasy fiction as quickly as James Clemens. In the first four novels of his breathtaking epic, The Banned and the Banished, Clemens has woven an ever-deepening spell of wonderment with his boundless imagination and matchless storytelling gifts. Now he brings his saga to a masterful and breathtaking climax as the wit'ch Elena faces the unmasked evil of the Dark Lord for the final time in a cataclysmic conclusion that will shatter her understanding of all that has gone before. . . .

The three deadly Weirgates are destroyed but the threat of the Dark Lord remains. And so Elena and her companions have gone their separate ways to prepare for what is yet to come. Elena herself has journeyed to the beautiful city of A'loa Glen, there to recover her strength and spirit.

Enter Harlequin Quail.

Some might call him a fool, but the little man in the jester's suit claims to be a spy. And he comes fresh from the foul fortress of Blackhall itself, where the Dark Lord dwells. There he uncovered things that spell certain doom– for a final Weirgate remains, the most potent one of all. And with it, in just one moon's time, the Dark Lord will avenge his earlier defeat, destroying the heart of the land and ushering in a reign of evil without end. Only Elena, with the awesome magicks of the Blood Diary, has the power to stop him.

Blackhall is all but impregnable. And according to Quail, the Weirgate is well hidden, in a place known only to the Dark Lord himself.

Thus begins a desperate quest like no other. Hunted by the Dark Lord's minions and threatened by clandestine betrayals, Elena and her brave companions reunite in the effort to locate the last Weirgate and destroy it. Along the way, many questions will be answered and illusions will be smashed. Brother will turn against brother, and the strongest bonds of magic and love will be tested to the breaking point . . . and beyond.
Praise For Wit'ch Star (The Banned and The Banished #5)…
"With every new book in the Wit'ch War saga, Jim Clemens' storytelling expertise becomes more compelling."
–TERRY BROOKS
Author of The Sword of Shannara
Del Rey, 9780345442659, 608pp.
Publication Date: November 4, 2003
About the Author
James Clemens was born in Chicago, Illinois, in 1961. With his three brothers and three sisters, he was raised in the Midwest and rural Canada. He attended the University of Missouri and graduated with a doctorate in veterinary medicine in 1985. The lure of ocean, sun, and new horizons eventually drew him to the West Coast, where he established his veterinary practice in Sacramento, California. He is the author of Wit'ch Fire, Wit'ch Storm, Wit'ch War, and Wit'ch Gate. Under the name James Rollins, he is also the author of the national bestseller Subterranean.
or
Not Currently Available for Direct Purchase