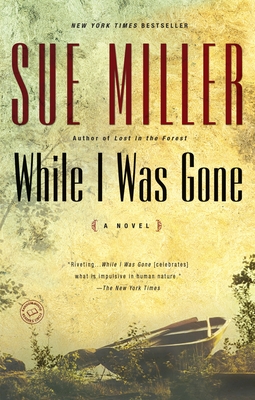 While I Was Gone (Paperback)
A Novel
Ballantine Books, 9780345443281, 304pp.
Publication Date: May 12, 2000
Other Editions of This Title:
Digital Audiobook (7/4/2000)
Mass Market Paperback (11/26/2002)
* Individual store prices may vary.
Description
"Riveting . . . While I Was Gone [celebrates] what is impulsive in human nature."
–The New York Times

"Miller weaves her themes of secrecy, betrayal, and forgiveness into a narrative that shines."
–Time


Jo Becker has every reason to be content. She has three dynamic daughters, a loving marriage, and a rewarding career. But she feels a sense of unease. Then an old housemate reappears, sending Jo back to a distant past when she lived in a communal house in Cambridge, Massachusetts. Drawn deeper into her memories of that fateful summer in 1968, Jo begins to obsess about the person she once was. As she is pulled farther from her present life, her husband, and her world, Jo struggles against becoming enveloped by her past and its dark secret.


"[While I Was Gone] swoops gracefully between the past and the present, between a woman's complex feelings about her husband and her equally complex fantasies–and fears–about another man. . . . [Miller writes] well about the trials of faith."
–The New York Times Book Review

"Quietly gripping . . . Jo shines steadily as the flawed and thoroughly modern heroine. As in her 1986 novel, The Good Mother, Miller shows how impulses can fracture the family."
–USA Today

"Marvelous . . . poignant . . . powerful."
–Seattle Times/Post Intelligencer
About the Author
Sue Miller is the bestselling author of The God Mother, Inventing the Abbotts, Family Pitctures, For Love, and The Distinguished Guest.  She lives in Boston.
Praise For While I Was Gone: A Novel…
"Riveting . . . The narrative pacing is masterly, building tension even in the most psychologically subtle passages. . . . While I Was Gone celebrate[s] what is impulsive in human nature."
--CHRISTOPHER LEHMANN-HAUPT
   The New York Times

"MILLER WEAVES HER THEMES OF SECRECY, BETRAYAL AND FORGIVENESS INTO A NARRATIVE THAT SHINES."
--Time

"FASCINATING . . . A NEW NOVEL OF GREAT INTEGRITY AND POWER . . . Despite having a loving husband, three vivacious daughters, a beautiful home in rural Massachusetts, and satisfaction in her work, Jo Becker's mind is invaded by a persistent restlessness. Then, an old roommate reappears to bring back Jo's memories of her early 20s. . . . Her obsession with that period of her life and with the crime that concluded it eventually estrange Jo from everything she holds dear, causing her to tell lie after lie as she is pulled closer to this man from her past--and to a horrible secret."
--Milwaukee Journal-Sentinel

"MARVELOUS . . . POIGNANT . . . POWERFUL."
--Seattle Times/Post Intelligencer

"A BEAUTIFUL AND FRIGHTENING BOOK . . . MANY READERS WILL FIND IT DIFFICULT TO FORGET. . . . It swoops gracefully between the past and the present, between a woman's complex feelings about her husband and her equally complex fantasies--and fears--about another man. . . . I can think of few contemporary novelists--John Updike and Frederick Buechner are two others--who write so well about the trials of faith."
--The New York Times Book Review

"QUIETLY GRIPPING . . . Jo shines steadily as the flawed and thoroughly modern heroine. As in her 1986 novel, The Good Mother, Miller shows how impulses can fracture the family."
--USA Today