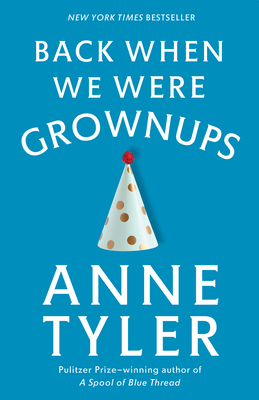 Back When We Were Grownups (Paperback)
Vintage, 9780345446862, 294pp.
Publication Date: April 9, 2002
Description
"A WONDERFUL NOVEL . . . Tyler's eye and ear for familial give and take is unerring, her humanity irresistible. You'll want to turn back to the first chapter the moment you finish the last."
-People (Page-Turner of the Week)

"STUNNING . . . 'Once upon a time, ' the story begins, 'there was a woman who discovered she had turned into the wrong person.' . . . With Rebecca Davitch, Tyler has created a character who is brave enough to look back on her life and to imagine herself making different kinds of choices. Brave enough to wonder what honesty looks like, whether there is ever really a single distillation of self that is unshakable and true. . . . Anne Tyler has a talent for spinning out characters . . . who go on living long after their stories end."
-The Baltimore Sun

"Her characters endear themselves to the reader with their candor and their wit and their simple decency. . . . The charm of an Anne Tyler novel lies in the clarity of her prose and the wisdom of her observations."
-The Washington Post Book World
"RESEMBLES JANE AUSTEN'S PERSUASION IN THAT IT'S A NOVEL ABOUT SECOND CHANCES . . . The tension that keeps the narrative alive is our desire for Rebecca to get the recognition and respect that we know she deserves from her family, and from herself. It's always good to have a character to root for."
-San Jose Mercury News

"Maybe there's something glorious to be said, after all, for companionship, common cause, and sanctuary. And what there is to say, Anne Tyler has been saying for decades, with gravity and grace."
-The New York Times Book Review

About the Author
Anne Tyler was born in Minneapolis in 1941 but grew up in Raleigh, North Carolina. She graduated at nineteen from Duke University and went on to do graduate work in Russian studies at Columbia University. This is Anne Tyler's fifteenth novel; her eleventh, Breathing Lessons, was awarded the Pulitzer Prize in 1988. She is a member of the American Academy and Institute of Arts and Letters. She lives in Baltimore.
Praise For Back When We Were Grownups…
"This novel is a treasure, a jubilant look at a woman who embarks on a modern search for herself with style, grace, and, yes, celebration."
–The Miami Herald


"One does not so much read a Tyler novel as visit it. Her ability to conduct several conversations at once while getting the food to the table turns the act of reading into a kind of transport. . . . In a literary landscape that too often mistakes sarcasm for humor and self-reference for irony, an Anne Tyler novel, brimming with the real thing, calls for a toast."
–San Francisco Chronicle

Advertisement