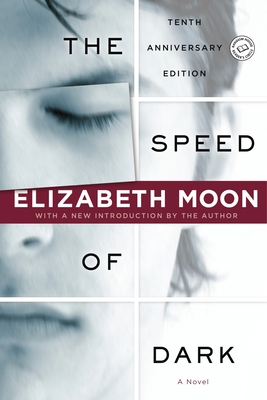 The Speed of Dark (Paperback)
Ballantine Books, 9780345447548, 384pp.
Publication Date: March 2, 2004
Other Editions of This Title:
Mass Market Paperback (6/28/2005)
MP3 CD (8/27/2010)
Paperback, Spanish (5/1/2008)
MP3 CD (8/27/2010)
Compact Disc (8/27/2010)
Compact Disc (8/27/2010)
Compact Disc (9/7/2015)
MP3 CD (8/11/2015)
* Individual store prices may vary.
Description
Thoughtful, provocative, poignant, unforgettable, The Speed of Dark is a gripping journey into the mind of an autistic person as he struggles with profound questions of humanity and matters of the heart.

In the near future, disease will be a condition of the past. Most genetic defects will be removed at birth; the remaining during infancy. Lou Arrendale, a high-functioning autistic adult, is a member of the lost generation, born at the wrong time to reap the rewards of medical science. He lives a low-key, independent life. But then he is offered a chance to try a brand-new experimental "cure" for his condition. With this treatment Lou would think and act and be just like everyone else. But if he was suddenly free of autism, would he still be himself? Would he still love the same classical music—with its complications and resolutions? Would he still see the same colors and patterns in the world—shades and hues that others cannot see? Most important, would he still love Marjory, a woman who may never be able to reciprocate his feelings? Now Lou must decide if he should submit to a surgery that might completely change the way he views the world . . . and the very essence of who he is.
 
Tenth anniversary edition • With a new Introduction by the author

Praise for The Speed of Dark
 
"Splendid and graceful . . . A lot of novels promise to change the way a reader sees the world; The Speed of Dark actually does."—The Washington Post Book World
 
"[A] beautiful and moving story . . . [Elizabeth] Moon is the mother of an autistic teenager and her love is apparent in the story of Lou. He makes a deep and lasting impact on the reader while showing a different way of looking at the world."—The Denver Post
 
"Every once in a while, you come across a book that is both an important literary achievement and a completely and utterly absorbing reading experience—a book with provocative ideas and an equally compelling story. Such a book is The Speed of Dark."—Fort Lauderdale Sun-Sentinel
 
"A remarkable journey [that] takes us into the mind of an autistic with a terrible choice: become normal or remain an alien on his own planet."—Mary Doria Russell, author of The Sparrow
 
"A powerful portrait . . . an engaging journey into the dark edges that define the self."—The Seattle Times
About the Author
Elizabeth Moon grew up on the Texas border, served three years of active duty in the USMC (1968–71), and now lives with her husband, also a veteran, near Austin, Texas. She has published more than twenty-five novels, including Nebula Award winner The Speed of Dark, Hugo finalist Remnant Population, and the enduring epic fantasy series The Chronicles of Paksenarrion. She has published more than fifty short-fiction pieces in anthologies and magazines and in four of her own short-fiction collections, most recently Moon Flights and Deeds of Honor. When not writing, Moon enjoys photographing native plants and wildlife, knitting socks, and cooking.


Praise For The Speed of Dark…
"Splendid and graceful . . . A lot of novels promise to change the way a reader sees the world; The Speed of Dark actually does."—The Washington Post Book World
 
"[A] beautiful and moving story . . . [Elizabeth] Moon is the mother of an autistic teenager and her love is apparent in the story of Lou. He makes a deep and lasting impact on the reader while showing a different way of looking at the world."—The Denver Post
 
"Every once in a while, you come across a book that is both an important literary achievement and a completely and utterly absorbing reading experience—a book with provocative ideas and an equally compelling story. Such a book is The Speed of Dark."—Fort Lauderdale Sun-Sentinel
 
"A remarkable journey [that] takes us into the mind of an autistic with a terrible choice: become normal or remain an alien on his own planet."—Mary Doria Russell, author of The Sparrow
 
"A powerful portrait . . . an engaging journey into the dark edges that define the self."—The Seattle Times