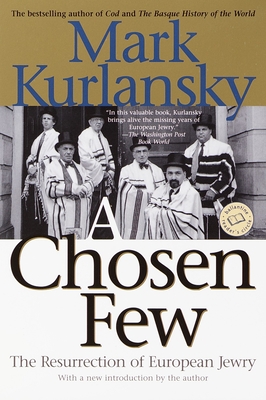 A Chosen Few (Paperback)
The Resurrection of European Jewry
Ballantine Books, 9780345448149, 464pp.
Publication Date: March 26, 2002
Other Editions of This Title:
MP3 CD (5/17/2016)
* Individual store prices may vary.
Description
A POWERFUL, DEEPLY MOVING NARRATIVE OF HOPE REBORN
IN THE SHADOW OF DESPAIR

Fifty years after it was bombed to rubble, Berlin is once again a city in which Jews gather for the Passover seder. Paris and Antwerp have recently emerged as important new centers of Jewish culture. Small but proud Jewish communities are revitalizing the ancient centers of Budapest, Prague, and Amsterdam. These brave, determined Jewish men and women have chosen to settle–or remain–in Europe after the devastation of the Holocaust, but they have paid a price. Among the unexpected dangers, they have had to cope with an alarming resurgence of Nazism in Europe, the spread of Arab terrorism, and the impact of the Jewish state on European life.

Delving into the intimate stories of European Jews from all walks of life, Kurlansky weaves together a vivid tapestry of individuals sustaining their traditions, and flourishing, in the shadow of history. An inspiring story of a tenacious people who have rebuilt their lives in the face of incomprehensible horror, A Chosen Few is a testament to cultural survival and a celebration of the deep bonds that endure between Jews and European civilization.

"Consistently absorbing . . . A Chosen Few investigates the relatively uncharted territory of an encouraging phenomenon."
–Los Angeles Times

"I can think of no book that portrays with such intelligence, historical understanding, and journalistic flair what life has been like for Jews determined to build lives in Europe."
–SUSAN MIRON
Forward

About the Author
Mark Kurlansky is the author of Salt; The Basque History of the World; the New York Times bestseller Cod: A Biography of the Fish that Changed the World; A Continent of Islands: Searching for the Carribean Destiny; and a collection of stories, The White Man in the Tree. He is a regular contributor to the Partisan Review. He has also written for the International Herald Tribune, the Chicago Tribune, Harper's, and The New York Times Magazine, among other publications. He lives in New York City.
Praise For A Chosen Few: The Resurrection of European Jewry…
"This book is a fascinating review of the changing life of Jews and Judaism and Europeans in general since the Second World War."
–Rocky Mountain News

"Kurlansky does an astonishingly informative job here, covering a vast array of individuals and communities throughout Europe, chronicling the economic, political, and cultural trends that reshaped and often played havoc with their lives and destinies. His descriptions of life in Antwerp, Paris, Budapest, and Amsterdam are superb, while his chapters on Poland are among the best I've read."
–SUSAN MIRON
Forward

"A richly descriptive and insightful survey of post-Holocaust European Jewry . . . With a novelist's eye for irony and description, [Kurlansky] offers many moments of transcendence and humor; entertaining culture clashes between communists and capitalists, religious and secular, Zionists and diasporists. . . . A lively, penetrating follow-up to Holocaust readings that speaks volumes about the resiliency of the Jewish people."
–Kirkus Reviews

"Kurlansky's collection of case histories unfolds like a novel."
–The Jewish Advocate