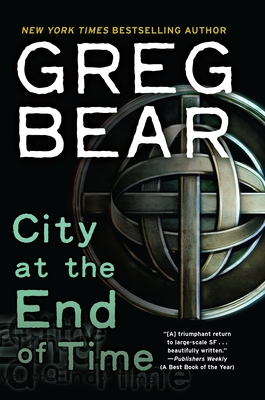 City at the End of Time (Paperback)
Del Rey Books, 9780345448408, 476pp.
Publication Date: August 25, 2009
Description
In a time like the present, in a world that may or may not be our own, three young people-Ginny, Jack, and Daniel-dream of a decadent, doomed city of the distant future: the Kalpa. But more than dreams link these three: They are fate-shifters, born with the ability to skip across the surface of the fifth dimension, inhabiting alternate versions of themselves. And each guards an object whose origin and purpose are unknown: gnarled, stony artifacts called sum-runners that persist unchanged through all versions of time. Hunted by others with similar powers who seek the sum-runners on behalf of a terrifying, goddess-like entity known as the Chalk Princess, Ginny, Jack, and Daniel are drawn into an all but hopeless mission to rescue the future-and complete the greatest achievement in human history.
About the Author
Greg Bear is the author of more than twenty-five books, which have been translated into more than a dozen languages. He has been awarded two Hugos and five Nebulas for his fiction. He is married to Astrid Anderson Bear, and they are the parents of two children, Erik and Alexandra. www.gregbear.com From the Hardcover edition.
Praise For City at the End of Time…
"Represents a return to the sort of big and imaginative science-fiction epic that [Greg Bear's] many fans particularly covet."—Seattle Post-Intelligencer

"[A] triumphant return to large-scale SF . . . beautifully written."—Publishers Weekly, A Best Book of the Year

"[City at the End of Time] has the flavor of weird fantasy, closer in its feel to the works of Neil Gaiman or China Miéville than anything Bear has done before. It . . . has an epic depth."—Sci Fi Weekly

"A gripping, original tale."—NewScientist

"Powerful and evocative."—Analog

"Superlative . . . an excellent, excellent work."—Harlan Ellison

"Compelling . . . a remarkable tour de force of sustained visionary writing . . . one of Bear's best novels, perhaps even the very best."—Locus

Advertisement