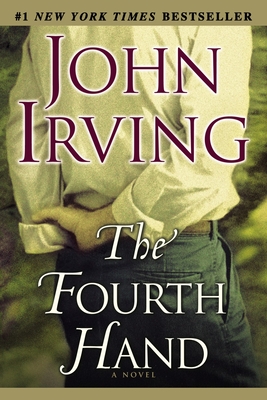 The Fourth Hand (Paperback)
A Novel
Ballantine Books, 9780345449344, 352pp.
Publication Date: May 14, 2002
* Individual store prices may vary.
Description
While reporting a story from India, New York journalist Patrick Wallingford inadvertently becomes his own headline when his left hand is eaten by a lion. In Boston, a renowned surgeon eagerly awaits the opportunity to perform the nation's first hand transplant. But what if the donor's widow demands visitation rights with the hand? In answering this unexpected question, John Irving has written a novel that is by turns brilliantly comic and emotionally moving, offering a penetrating look at the power of second chances and the will to change.
About the Author
John Irving has been nominated for a National Book Award three times—winning once, in 1980, for the novel The World According to Garp. In 1992, Mr. Irving was inducted into the National Wrestling Hall of Fame in Stillwater, Oklahoma. In 2000, he won the Oscar for Best Adapted Screenplay for The Cider House Rules—a film with seven Academy Award nominations.


Praise For The Fourth Hand: A Novel…
"A RICH AND DEEPLY MOVING TALE . . . Vintage Irving: a story of two very disparate people, and the strange and unexpected ways we grow . . . Irving's novels are perceptive and precise reflections of the world around us."
–The Washington Post Book World

"A BLEND OF SEXUAL FARCE, JOURNALISTIC SATIRE, AND TENDER LOVE STORY . . . From what at first seems bizarre, Irving builds the best kind of love story: an improbable one. Wallingford gets more than a transplanted hand; he begins to find his soul."
–USA Today

"A RIVETING ENTERTAINMENT AND CERTAINLY ONE OF THE FUNNIEST NOVELS OF THE YEAR. The authoritative control of Irving's storytelling has never been more impressive. . . . The delighted reader is powerless to look away."
–Chicago Sun-Times

"[A] THOROUGHLY SATISFYING LITERARY EXPERIENCE . . . Irving's most compassionate and redemptive [novel] to date . . . [His] mastery of characterization is unequaled in American novelists of the day."
–St. Louis Post Dispatch

"A BEAUTIFUL STORY ABOUT THE REDEMPTIVE POWER OF LOVE."
–The Denver Post