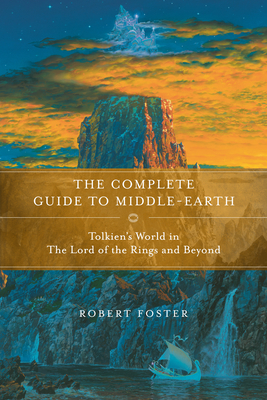 The Complete Guide to Middle-Earth: From the Hobbit Through the Lord of the Rings and Beyond (Paperback)
From the Hobbit Through the Lord of the Rings and Beyond
Del Rey Books, 9780345449764, 592pp.
Publication Date: December 4, 2001
Description
For the millions who have already ventured to Middle-earth, and for the countless others who have yet to embark on the journey here is the one indispensable A-to-Z guide that brings Tolkien's universe to life.

EVERY CHARACTER
From Adaldrida Brandybuck to Zaragamba every Hobbit, Elf, Dwarf, Man, Orc, or other resident of Middle-earth is vividly described and accurately located in proper place and time.
EVERY PLACE
Colorfully detailed descriptions of geographical entries allow you to pick up the action anywhere in Middle-earth and follow it through all five volumes.
EVERY THING
From stars and streams to food and flora, everything found in Middle-earth is alphabetically listed and, when necessary, cross-referenced.
HERE IS TRULY A MASTER KEY
TO TOLKIEN S MIDDLE-EARTH

About the Author
John Ronald Reuel Tolkien was born on January 3, 1892, in Bloemfontein, South Africa. After serving in the First World War, he embarked upon a distinguished academic career and was recognized as one of the finest philologists in the world. He was a professor of Anglo-Saxon at Oxford, a fellow of Pembroke College, and a fellow of Merton College until his retirement in 1959. He is, however, beloved throughout the world as the creator of Middle-earth and author of such classic works as The Hobbit and The Lord of the Rings. He died on September 2, 1973, at the age of 81.
Advertisement