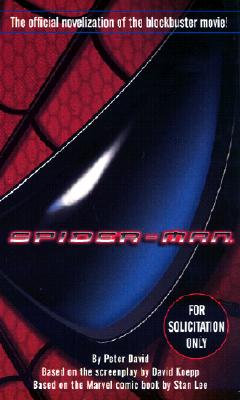 Spider-Man (Mass Market Paperbound)
Del Rey Books, 9780345450050, 320pp.
Publication Date: March 19, 2002
* Individual store prices may vary.
or
Not Currently Available for Direct Purchase
Description
The explosive tale of "Marvel Comics " crime-fighting superhero
SPIDER-MAN
It begins with an orphan named Peter Parker, raised by his beloved Aunt May and Uncle Ben in Queens, New York. A quiet student, he works diligently at his studies and pines for the beautiful Mary Jane Watson. But this ordinary teenage boy is about to have his life turned upside down, when he is bitten by a genetically altered spider. Suddenly, he finds himself possessed of spectacular powers. He is now "and forever" Spider-Man
Follow Spider-Man's action-packed journey, from his struggle to harness the extraordinary gifts that will prove to be both blessing and curse, to his fight to save innocent lives while the media tears him to pieces. It all leads up to his ultimate battle high above New York streets, against the death-dealing madman known as the Green Goblin. While the city watches helplessly and countless lives hang in the balance, Spider-Man confronts his archnemesis, and the Goblin puts Spider-Man's vow to fight crime to the ultimate test . . .
About the Author
Peter David is famous for writing some of the most popular of the original "Star Trek: The Next Generation "novels, including "Imzadi" and "A Rock and a Hard Place." His original works include the original fantasy "Sir Apropos of Nothing," the Arthurian novel "Knight Life," and the quirky werewolf story "Howling Mad." He single-handedly revived the classic comic book series "The Incredible Hulk" and has written just about every famous comic book superhero, including "Spider-Man "and the futuristic "Spider-Man 2099." He collaborated with J. Michael Straczynski on the "Babylon 5 "novels and comic book series, and with Bill Mumy, he created the Nickelodeon television series "Space Cases." In his spare time, he writes movie screenplays, children s books, and TV scripts."
Advertisement