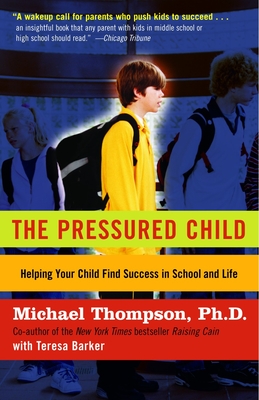 The Pressured Child
Freeing Our Kids from Performance Overdrive and Helping Them Find Success in School and Life
Paperback

* Individual store prices may vary.
Other Editions of This Title:
Hardcover (8/1/2004)
Description
The push for students to excel at school and get into the best colleges has never been more intense. In this invaluable new book, the bestselling co-author of Raising Cain addresses America's performance-driven obsession with the accomplishments of its kids–and provides a deeply humane response.
"How was school?" These three words contain a world of desire on the part of parents to know what their children are learning and experiencing in school each day. Children may not divulge much, but psychologist Michael Thompson suggests that the answers are there if we know how to read the clues and–equally important–if we remember our own school days.
School, Thompson reminds us, occupies more waking hours than kids spend at home; and school is full not just of studies but of human emotion–excitement, fear, envy, love, anger, sexuality, boredom, competitiveness. Through richly detailed interviews, case histories, and student e-mail journals, including those of his own children, Thompson illuminates the deeper psychological journey that school demands, a journey that all children must take in order to grow and develop, whether they are academic aces or borderline dropouts. Most of us remember this journey, if we are honest with ourselves, but our children must experience it in their own way, for better or worse.

In stories that are by turns poignant, shocking, uplifting, and inspiring, we see students grapple with the textured reality of their lives, devising their own unique strategies to survive and thrive in school. For parents, this book reveals the hidden emotional landscape of the school day and points toward the answers we both desire and dread as we seek to help our children find success in school and beyond.
Bridging the worlds of the growing and the grown-up, and told in Thompson's compassionate voice as both psychologist and father, The Pressured Child shows us how to listen for the truth of our children's experience–and how to trust, love, and ultimately let go of a child. It is a crucial book for our stressful age–and an ideal resource for families struggling to survive it.
Praise For The Pressured Child: Freeing Our Kids from Performance Overdrive and Helping Them Find Success in School and Life…
"This readable, sensible book helps us see schools through the eyes of our children. Thompson is compassionate, wise, and well informed. He broadens our thinking about that important question, 'Is my child doing well in school?' "
–MARY PIPHER, Ph.D., author of Reviving Ophelia

"The Pressured Child brilliantly reclaims childhood for children. Read this book, follow its advice, and you will reharmonize what has become a cacophonous childhood for many in this country. This book pierces to the heart with its arresting insights, its captivating anecdotes, and its spot-on advice."
–EDWARD M. HALLOWELL, M.D., author of The Childhood Roots of Adult
Happiness and Driven to Distraction

"A direct, compassionate, and tremendously honest book about the issues that really shape children's lives. Through his own wise and helpful insights, Michael Thompson makes us remember, visualize, and understand the emotional, social, and educational complexities of the school universe in which our children live and grow and, often, struggle. This is a book for parents who truly want to understand and truly want to help–compelling, reassuring, and valuable."
–PERRI KLASS, M.D., coauthor of Quirky Kids

"Michael Thompson's depiction of the inner life of today's stressed kids is remarkable–poignant but also very sobering. Any parents who read this book are going to look at themselves and their kids in a whole new way. This is a book that can make a real difference in the lives of today's kids."
–ANTHONY E. WOLF, Ph.D., author of "Mom, Jason's Breathing on Me!"

"Michael Thompson has written a very special book. For all parents who feel helpless because they no longer understand their children's daily struggle, The Pressured Child is a true gift, helping us to see life through young people's eyes. With the trenchant insights that only Michael Thompson can offer, he takes us along for a ride that few adults have ever known."
–RACHEL SIMMONS, author of Odd Girl Out:
The Hidden Culture of Aggression in Girls
Ballantine Books, 9780345450135, 288pp.
Publication Date: August 30, 2005
About the Author
Michael Thompson, Ph.D., is a clinical psychologist, lecturer, consultant, and former seventh-grade teacher. He conducts workshops across the United States on social cruelty, children's friendships, and boys' development. With Catherine O'Neill Grace and Lawrence J. Cohen, Ph.D., he co-authored Best Friends, Worst Enemies: Understanding the Social Lives of Children and Mom, They're Teasing Me: Helping Your Child Solve Social Problems. With Dan Kindlon, Ph.D., he co-authored the New York Times bestseller Raising Cain: Protecting the Emotional Life of Boys. He is also the author of Speaking of Boys: Answers to the Most-Asked Questions About Raising Sons. He lives in Arlington, Massachusetts.

Teresa Barker, who collaborated with Thompson on Raising Cain and Speaking of Boys, is a journalist and mother of three school-age children. She lives in Wilmette, Illinois.
or
Not Currently Available for Direct Purchase