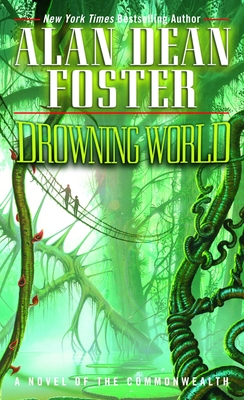 Drowning World (Mass Market Paperbound)
Del Rey Books, 9780345450364, 336pp.
Publication Date: November 4, 2003
* Individual store prices may vary.
or
Not Currently Available for Direct Purchase
Description
Alan Dean Foster doesn't just build worlds, he creates entire universes. Book by book, his star-spanning saga of the Humanx Commonwealth has evolved into one of science fiction's most notable achievements. Filled with rigorously imagined aliens and sophisticated cultures, spiced with humor and passion, and driven by relentless adventure and intrigue, Foster's remarkable Commonwealth series just keeps getting better. They call it the Drowning World. It is Fluva, a planet on the fringes of the Commonwealth where it rains torrentially, ceaselessly, and maddeningly for all but one month of the Fluvan year. Chief Administrator Lauren Matthias is fairly new to the position. Her primary goal: keeping Fluva's indigenous species, the warlike Sakuntala and immigrant species, the timid but hard-working Deyzara, from annihilating one another. The wettest place on Fluva is Viisiiviisii, an immense, mostly unexplored jungle. Thanks to the endless rains and humid conditions, exotic animals and plants have thrived there, many of them deadly predators. Yet the same evolutionary process responsible for creating toxic creatures has made the jungle a treasure trove of undiscovered botanicals potentially useful in engineering everything from pharmaceuticals to perfumes. A man can get rich there. Or die trying. Bio-prospector Shadrach Hasselemoga has come to the jungle to get rich-- if he survives the terrain once his sabotaged ship goes down. When a Sakuntala and a Deyzara are dispatched by Matthias to rescue the unfortunate soul, their ship crashes, too. Now, in order to survive, the three unlikely allies must do something that no one has ever done before: walk out of the Viisiiviisii. Meanwhile, in what passes for civilization, long-simmering tensions between Sakuntala and Deyzara erupt into violence, threatening Matthias's official position of neutrality--and her life. Behind the violence, Matthias detects a mysterious presence, one related to Shadrach's disappearance. But how are the two related? The answer, when it comes, will send shock waves through the entire Commonwealth . . . and beyond. From the Hardcover edition.
About the Author
Alan Dean Foster has written in a variety of genres. He is the author of the Star Wars novel The Approaching Storm. He is also the author of numerous nonfiction articles on film, science, and scuba diving, as well as novel versions of several films, including Star Wars. His novel Cyber Way won the Southwest Book Award for Fiction in 1990, the first science fiction work ever to do so. Foster's love of the faraway and exotic has led him to travel extensively. He's lived in Tahiti and French Polynesia, traveled to Europe, Asia, and throughout the Pacific, and has explored the back roads of Tanzania and Kenya. Foster and his wife, JoAnn Oxley, reside in Prescott, Arizona, in a house built of brick that was salvaged from a turn-of-the-century miner's brothel. He is presently at work on several new novels and media projects. Visit the author online at www.alandeanfoster.com. From the Hardcover edition.
Advertisement