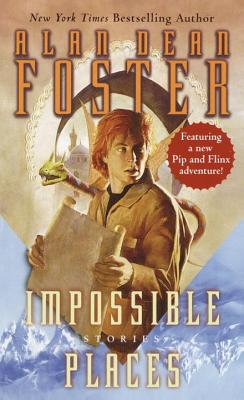 Impossible Places (Mass Market Paperback)
Del Rey, 9780345450418, 288pp.
Publication Date: August 27, 2002
* Individual store prices may vary.
or
Not Currently Available for Direct Purchase
Description
For three decades science fiction legend Alan Dean Foster has captivated readers around the world, from his debut classic The Tar-Aiym Krang and his inspired scenario for the first Star Trek movie to a host of New York Times bestsellers, including Splinter of the Mind's Eye and Flinx in Flux.
In this collection of twenty brilliant odysseys of the imagination, Foster once again soars beyond the limits of reality--where the real thrills begin. . . .
NASA Sending Addicts to Mars It was the most insane idea in the annals of space travel--and the only one that would work.
Diesel Dream Sometimes on dark, lonely highways dreams do come true, and this trucker's hope was the best one of all.
Sideshow Flinx hadn't a clue about the alien dancer, but Pip knew trouble when she saw it.
Empowered A magnificent male discovers the not-so-super part about being a superhero.
The Question A bold adventurer determines to solve one of life's profound mysteries.
. . . and fifteen other amazing stories

About the Author
Alan Dean Foster has written in a variety of genres, including hard science fiction, fantasy, horror, detective, western, historical, and contemporary fiction. He is also the author of numerous nonfiction articles on film, science, and scuba diving, as well as novelizations of several films, including Star Wars, the first three Alien films, and Alien Nation. His novel Cyber Way won the Southwest Book Award for Fiction in 1990, the first science fiction work ever to do so. Foster's love of the far-away and exotic has led him to travel extensively. He's lived in Tahiti and French Polynesia, traveled to Europe, Asia, and throughout the Pacific, and has explored the back roads of Tanzania and Kenya. He has rappelled into New Mexico's fabled Lechugilla Cave, panfried piranha (lots of bones, tastes a lot like trout) in Peru, white-water rafted the length of the Zambezi's Batoka Gorge, and driven solo the length and breadth of Namibia. Foster and his wife, JoAnn Oxley, reside in Prescott, Arizona, in a house built of brick that was salvaged from a turn-of-the-century miners' brothel. He is presently at work on several new novels and media projects.
Advertisement