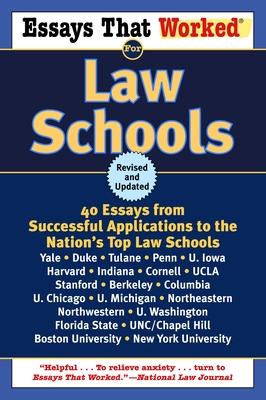 Essays That Worked for Law Schools: 40 Essays from Successful Applications to the Nation's Top Law Schools (Paperback)
40 Essays from Successful Applications to the Nation's Top Law Schools
Ballantine Books, 9780345450425, 130pp.
Publication Date: July 29, 2003
* Individual store prices may vary.
or
Not Currently Available for Direct Purchase
Description
"Law school applicants should consider this a guide to producing a competitive, superior essay. . . . These successful examples speak louder than any written how-to instructions could." -The Book Watch Each year, thousands of people apply to the most prestigious law schools across the country, competing for an ever-smaller number of spaces. But each applicant gets one chance to distinguish himself or herself from the pack: the law school application essay. In the essay, you can spotlight the qualities you possess that transcripts and LSAT scores cannot reveal. Essays That Worked for Law Schools shows that winning essays come in a variety of styles and voices. One student writes about running a day-care center. Another tells a harrowing story about driving a cab in New York City. And a third gives an incredibly convincing argument for why the world needs one more good lawyer. From the thousands submitted each year, the essays in this book were considered some of the best by admissions officers at the nation's top law schools. If you're facing essay anxiety, this book will educate and inspire you-and most important of all, help you write an essay that will give you the best chance of getting into the law school of your choice.
About the Author
Boykin Curry is a partner at New York-based hedge fund Eagle Capital. He is a co-founder of Public Prep, a network of charter schools in New York City; a board member of Alliance for School Choice; and co-founder of Democrats for Education Reform. He received a degree in economics from Yale University in 1988 and his MBA from Harvard University in 1994. Brian Kasbar is a co-founder of GemIIni Educational Systems, which provides video modeling therapy for special education students. He received his BA from Yale in 1988.
Advertisement