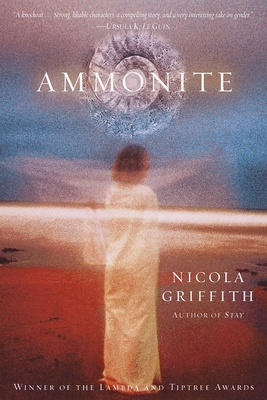 Ammonite (Paperback)
Del Rey, 9780345452382, 416pp.
Publication Date: April 30, 2002
* Individual store prices may vary.
Description
Winner of the Lambda and Tiptree Awards • "A knockout . . . Strong, likable characters, a compelling story, and a very interesting take on gender."—Ursula K. Le Guin

Change or die. These are the only options available on planet Jeep. Centuries earlier, a deadly virus shattered the original colony, killing the men and forever altering the few surviving women. Now, generations after the colony lost touch with the rest of humanity, a company arrives to exploit Jeep—and its forces find themselves fighting for their lives. Terrified of spreading the virus, the company abandons its employees, leaving them afraid and isolated from the natives. In the face of this crisis, anthropologist Marghe Taishan arrives to test a new vaccine. As she risks death to uncover the women's biological secret, she finds that she too is changing—and realizes that not only has she found a home on Jeep, but that she alone carries the seeds of its destruction. . . .

Ammonite is an unforgettable novel that questions the very meanings of gender and humanity. As readers share in Marghe's journey through an alien world, they too embark on a parallel journey of fascinating self-exploration.

"A powerful story of connection, allegiance, and obligation. Read Nicola Griffith's book—and keep an eye out for her name in the future."—Vonda N. McIntyre 

"A marvelous blend of high adventure and mind-boggling social speculation."—Kim Stanley Robinson
About the Author
Nicola Griffith is a native of Yorkshire, England, where she earned her beer money teaching women's self-defense, fronting a band, and arm-wrestling in bars, before discovering writing and moving to the United States. Her immigration case was a fight and ended up making new law: the State Department declared it to be "in the National Interest" for her to live and work in this country. This didn't thrill the more conservative powerbrokers, and she ended up on the front page of The Wall Street Journal, where her case was used as an example of the country's declining moral standards.
 
In 1993 a diagnosis of multiple sclerosis slowed her down a bit, and she concentrated on writing: Ammonite (1993), Slow River (1995), The Blue Place (1998), Stay (2002), Always (2007), and Hild (2013). Griffith is the co-editor of the Bending the Landscape series of original short fiction. Her multimedia memoir, And Now We Are Going to Have a Party: Liner Notes to a Writer's Early Life, is a limited collector's edition. Her essays and short fiction have appeared in an assortment of academic texts and a variety of journals, including Nature, New Scientist, Los Angeles Review of Books, and Out. She's won the Washington State Book Award, the Tiptree, Nebula, the World Fantasy Award, the Premio Italia, and the Lambda Literary Award (six times), among many others.
 
Now a dual U.S./U.K. citizen, Nicola Griffith is married to writer Kelley Eskridge. They live in Seattle, where Griffith is currently lost in the seventh century, emerging occasionally to drink just the right amount of beer and take enormous delight in everything.
Praise For Ammonite…
"A knockout . . . Strong, likable characters, a compelling story, and a very interesting take on gender."—Ursula K. Le Guin

"A powerful story of connection, allegiance, and obligation. Read Nicola Griffith's book—and keep an eye out for her name in the future."—Vonda N. McIntyre 

"A marvelous blend of high adventure and mind-boggling social speculation."—Kim Stanley Robinson