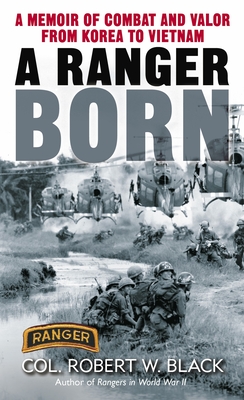 A Ranger Born: A Memoir of Combat and Valor from Korea to Vietnam (Mass Market Paperbound)
A Memoir of Combat and Valor from Korea to Vietnam
Presidio Press, 9780345453266, 396pp.
Publication Date: November 4, 2003
* Individual store prices may vary.
or
Not Currently Available for Direct Purchase
Description
Even as a boy growing up amid the green hills of rural Pennsylvania, Robert W. Black knew he was destined to become a Ranger. With their three-hundred-year history of peerless courage and independence of spirit, Rangers are a uniquely American brand of soldier, one foot in the military, one in the wilderness--and that is what fired Black's imagination. In this searing, inspiring memoir, Black recounts how he devoted himself, body and soul, to his proud service as an elite U. S. Army Ranger in Korea and Vietnam--and what those years have taught him about himself, his country, and our future. Born at the start of the Great Depression, Black grew up on a farm at a time of great hardship but also tremendous national determination. He was a kid who toughened up fast, who learned the hard way to rely on his strength and his wits, who saw the country go to war with Germany and Japan and wept because he was too young to serve. As soon as the army would take him, Black enlisted. And as soon as he could muscle his way in, he became a Ranger. As a private first class in the 82d Airborne Division headquarters, Black withstood the humiliations of enlisted service in the peacetime brown-shoe army. When the Korean War began, he volunteered and trained to be an Airborne Ranger. In Korea, this young warrior, his mind and body bursting with the lusts of adolescence, grew up fast, literally in the line of fire. In clean, vivid prose, Black describes the hell of giving his all for a country that lacked the political resolve to give its all to a war against the North Koreans and the Chinese. If Korea was frustrating, Vietnam was maddening. The heart of this book is devoted to the years of action that Black saw in Long An Province starting in 1967. Black writes of the perplexity of collaborating with South Vietnamese officers whose culture and motives he never fully understood; he conjures up the sudden shock of the Tet Offensive and the daily horror of seeing fellow soldiers and innocent civilians slaughtered--sometimes by stray bullets, often by carelessness or treachery. Vietnam challenged everything Black had come to believe in and left him totally unprepared for the hostility he would face when he returned to a war-weary America. Written with extraordinary candor and passion, A Ranger Born is the memoir of a man who dedicated the best of his life to everything that is great and enduring about America. At once intimate in its revelations and universal in its themes, it is a book with profound relevance to our own troubled time in history. From the Hardcover edition.
About the Author
Robert W. Black is a retired U.S. Army colonel who served in Vietnam and with the 8th Ranger Infantry Company (Airborne) in the Korean War. Parachute and glider qualified, twice the recipient of the combat Infantry Badge, he was awarded the Silver Star, three Bronze Stars--two for valor and one for meritorious service--the Legion of Merit, the Air Medal, and sixteen other awards and decorations. He was the founding president of the Airborne Ranger Association of the Korean War and was inducted into the Ranger Hall of Fame in 1995. He is the author of Rangers in Korea and Rangers in World War II and is currently writing the definitive history of the Rangers over the past four hundred years and a book on Rangers in the American Civil War. He lives in Carlisle, Pennsylvania. From the Hardcover edition.
Advertisement