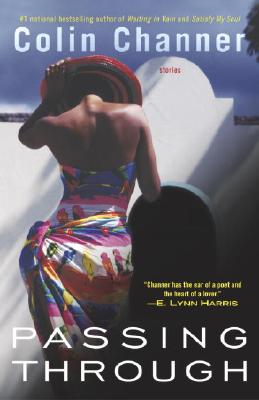 Passing Through (Paperback)
One World, 9780345453341, 368pp.
Publication Date: June 29, 2004
Other Editions of This Title:
Digital Audiobook (4/21/2011)
* Individual store prices may vary.
Description
From the national bestselling author of Waiting in Vain and Satisfy My Soul comes a sexy, witty collection of connected stories set on San Carlos, a tiny island with an old volcano in the Caribbean Sea.

Spanning the early 1900s up to modern times, the stories trace the intersecting lives of travelers, expatriates, and local folks in ways that shock, illuminate, and reveal. From the American photographer who finds her world disturbed by new forms of love and lust, to a charismatic priest confronted by the earthly perks of fame and stardom, the diverse mix of characters are united by the universal search for love and understanding—a challenge on an island simmering with issues of politics, power, and race.

Written with poetic grace and titillating candor, each story shines against its own tableau—World War II, the rise of Fidel Castro, Mt. Pelée devastating Martinique, import-export trading, Bob Marley in the days before his music echoed all around the world. As men and women fall in love, marry and remarry, face moral conflicts and new identities, the volcano sees it all. From plantation days to the roots of revolution, it is a silent witness to the turbulent century that engulfs this tiny island of eternal humor, passion, and allure.
About the Author
COLIN CHANNER is the author of the national bestselling novels Waiting in Vain and Satisfy My Soul, and the novella I'm Still
Waiting. In 1998, his influential debut novel Waiting in Vain was selected as a Critic's Choice by the Washington Post Book
World, which described it as a "clear redefinition of the CaribbeaN novel." Waiting in Vain was also selected as Book of the
Summer by Time Out New York and excerpted in Hot Spots: The Best Erotic Writing in Modern Fiction, which placed Mr. Channer in the company of writers such as Russell Banks, E. L. Doctorow, Don DeLillo, and David Foster Wallace.
Described as "Bob Marley with a pen instead of Gibson guitar" by award-winning poet and critic Kwame Dawes, Mr. Channer
was born in Jamaica and lives in New York. He is the founder and artistic director of the Calabash International Literary Festival (calabashfestival.org), the only annual international literary festival in the Caribbean. Mr. Channer is the bass player in the reggae band Pipecock Jaxxon and has taught fiction writing workshops in Jamaica, London and New York.

For more information visit colinchanner.com or write to him at colin@colinchanner.com. He answers all his mail himself.
Praise For Passing Through…
"No one describes the wonders and aches of love as sensuously as Colin Channer, and Channer has no rival when it comes to capturing the rhythmic beauty of island patois on the page. In Passing Through, Channer's silky prose is at its absolute finest; the stories are interwoven like a tapestry, a tapestry which scans across the panorama of Caribbean history to create an entirely new vocabulary of love, loss and discovery."
Z.Z. Packer, author of Drinking Coffee Elsewhere


"Colin Channer is a wonderfully funny, piercing, crafty and compassionate writer, and Passing Through is a remarkable literary achievement. The stories bring with them the keen thrill of having discovered a truly fresh, original voice-Channer's multiform vision of the Carribean and the people who flow in and out of it is an exciting and even vital contribution to the world of the short story."
Dan Chaon, author of You Remind Me of Me and Among the Missing

"Passing Through takes you to the islands, into the nitty-gritty of being an islander, and the taste of being in the Caribbean. And Colin's smooth Jamaican rhythm comes through his sentences. If you can't take a trip, take this as a little taste." -Toure, author of Soul City

"A splendid collection by one of the Caribbean Diaspora's finest writers. These tales are masterful distillations that teem with humor, with passion, with hope. Channer's compassion never fails to amaze." -Junot Diaz
or
Not Currently Available for Direct Purchase