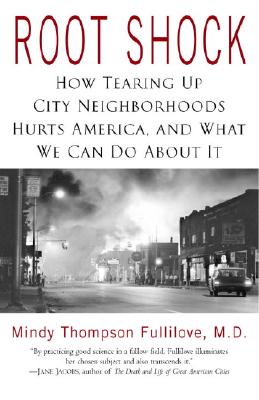 Root Shock
How Tearing Up City Neighborhoods Hurts America, and What We Can Do about It
Paperback

* Individual store prices may vary.
Description
They called it progress. But for the people whose homes and districts were bulldozed, the urban renewal projects that swept America starting in 1949 were nothing short of assault. Vibrant city blocks—places rich in history—were reduced to garbage-strewn vacant lots. When a neighborhood is destroyed its inhabitants suffer "root shock": a traumatic stress reaction related to the destruction of one's emotional ecosystem. The ripple effects of root shock have an impact on entire communities that can last for decades.

In this groundbreaking and ultimately hopeful book, Dr. Mindy Fullilove examines root shock through the story of urban renewal and its effect on the African American community. Between 1949 and 1973 this federal program, spearheaded by business and real estate interests, destroyed 1,600 African American neighborhoods in cities across the United States. But urban renewal didn't just disrupt the black community. The anger it caused led to riots that sent whites fleeing for the suburbs, stripping them of their own sense of place. And it left big gashes in the centers of U.S. cities that are only now slowly being repaired.

Focusing on three very different urban settings—the Hill District of Pittsburgh, the Central Ward in Newark, and the small Virginia city of Roanoke—Dr. Fullilove argues powerfully that the twenty-first century will be one of displacement and of continual demolition and reconstruction. Acknowledging the damage caused by root shock is crucial to coping with its human toll and building a road to recovery.

Astonishing in its revelations, unsparing in its conclusions, Root Shock should be read by anyone who cares about the quality of life in American cities—and the dignity of those who reside there.
Praise For Root Shock: How Tearing Up City Neighborhoods Hurts America, and What We Can Do about It…
"This powerfully imaginative work by a leading social psychiatrist offers original ideas that sponsor not just a critique but ways to respond and prevent a major source of social and health problems in our time. A book of real importance."
—ARTHUR KLEINMAN, Esther and Sidney Rabb Professor of Anthropology,
Harvard University

"Root Shock examines the impact of urban renewal and community dismemberment on Americans—especially African Americans—and challenges us to respond. This could be one of the great books of our time!"
—DAVID SATCHER, M.D., Ph.D., director, National Center for Primary Care at
Morehouse School of Medicine

"Root Shock is a superbly written book, with a profoundly urgent message. In many ways the book is a mirror of the lost and lovely neighborhoods Mindy Fullilove brilliantly illuminates: courageous, powerful, and unforgettable. With Root Shock, Fullilove joins the ranks of William Julius Wilson, Melissa Faye Greene, Jonathan Kozol, and Barbara Ehrenreich—social critics who daringly shine a light on the neglected corners of the American Dream."
—PATRIK HENRY BASS, author of In Our Own Image
and Like a Mighty Stream: The March on Washington, August 28, 1963

"An indispensable book that deals with human rights as they refer to the trauma that poor communities experience when the cynicism of social forces displaces them and destroys their communities."
—HERBERT KOHL, Institute for Social Justice and Education,
author of 36 Children and "I Won't Learn from You"

"Dr. Mindy Fullilove, one of the finest and most creative psychiatric intellects of our time, has outdone her previous seminal contributions on 'place' and 'displacement' by introducing us to the notion of 'root shock.' This wonderful, relevant, contextual text touts the importance of urbanization and how urban renewal shredded the social fabric that was a key component of mental wellness in African Americans."
—CARL C. BELL, M.D., F.A.P.A., F.A.C. Psych.
President and CEO, Community Mental Health Council, and
professor of psychiatry and public health, University of Illinois

"The eradication of 1,600 African American communities, Fullilove compellingly contends, has done far-reaching damage to the emotional ecosystem of the entire United States."
—LISE FUNDERBURG, author of Black, White, and Other

One World, 9780345454232, 292pp.
Publication Date: August 30, 2005
About the Author
Mindy Fullilove, M.D., a professor of clinical psychiatry and public health at Columbia University, has done pioneering research on the effects of AIDS on African-American communities. She is the author of "The House of Joshua: Meditations on Family and Place." She lives in Englewood, New Jersey. "From the Hardcover edition."
or
Not Currently Available for Direct Purchase