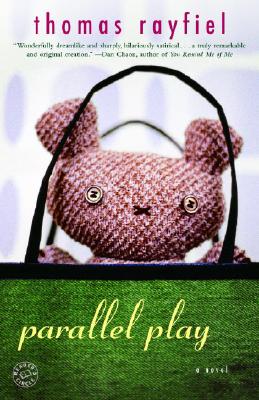 Parallel Play (Paperback)
Random House Trade, 9780345455192, 260pp.
Publication Date: January 9, 2007
* Individual store prices may vary.
or
Not Currently Available for Direct Purchase
Description
She's still not quite sure how it happened. The biological part is fairly straightforward. It's the wife-and-mother part that Eve can't wrap her head around. Much to her surprise, Eve finds herself living in Brooklyn, married to a doctor named Harvey, and toting a young infant named Ann. How did she get here? And where is that maternal instinct that was supposed to have kicked in by now?
From winter afternoons spent freezing at the Tot Spot to playgroups where she inadvertently tells the other mothers that Ann was an accident, Eve struggles to embrace motherhood and the yuppie accoutrements of her new life. It doesn't help that her even-keeled husband spends long days working at the hospital, or that her own childhood in a religious cult was-by most people's estimates-extremely odd. And when her ex-boyfriend (her gorgeous, toned, aloof ex-boyfriend) Mark reappears, Eve is thrown for a loop. Torn between the free-spirited Manhattanite she once was and the Snugli-wearing, baby-hoisting, stay-at-home body she now finds herself inhabiting, Eve realizes she must choose between the past and the present, lust and love, childhood and adulthood.
"What's sly, fine and real here is the way Rayfiel finally insinuates Baby into Eve's slow-melting heart to form a bio-bond that becomes wondrously tight. Smart, dark, daring fare."
-Kirkus Reviews

"It's high time we got a novel such as Parallel Play-one that portrays a young mother as neither the Virgin Mary nor as Mommie Dearest. Eve is fumbling, flawed, funny, and----above all-utterly human. Tom Rayfiel has dared to tell it like it is in this triumphant novel."
-Binnie Kirshenbaum, author of An Almost Perfect Moment
"Wonderfully dreamlike and sharply, hilariously satirical . . . a truly remarkable and original creation."
-Dan Chaon, author of You Remind Me of Me
"If Thomas Pynchon had suffered postpartum depression, he might have written a novel like Parallel Play. As Eve wanders through the first months of motherhood, her observations are hilarious, eerie, and unforgettable. This is a must-read for lovers of smart fiction and flummoxed mothers."-Amanda Eyre Ward, author of How to Be Lost
About the Author
Thomas Rayfiel is the author of Split-Levels, Colony Girl--a Los Angeles Times Notable Book of the Year--and Eve in the City. He has published stories in GQ, Grand Street, Antioch Review, and The Quarterly. He lives in Brooklyn.
Advertisement